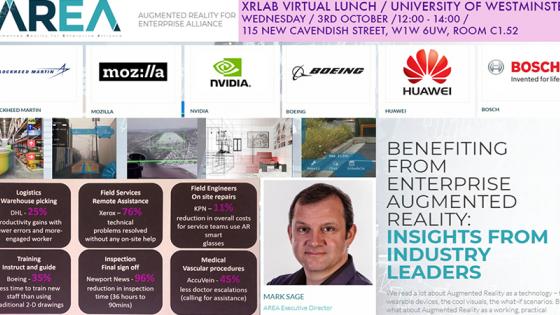 We are very proud to welcome Mark Sage, Executive Director of AREA - the Augmented Reality Enterprise Association, to the University of Westminster Cavendish campus.
AREA is a worldwide alliance of industry partners that are pioneering the use of AR and VR to produce and use the "Digital Twin" to mimic physical processes for design and production efficacy and efficiency.
AREA member companies include blue chip companies such as Boeing, Lockheed Martin, AMRC, Medtronic, Nvidia, Mozilla, and Bosch. These companies employ in-house XR processes that show impressive returns on investment and enable increased participation and engagement from all employees. Other members of AREA work wholly with XR and include the AEC (Architecture, Engineering, Construction) Hackathon, BrainWaive, Mira, Realwear, and Theorem Solutions.
AREA is currently in talks with the University of Westminster to be one of the first academic partners to join their network. They are very interested in areas of research that complement their member's activities. Each AREA member has also expressed the need for qualified graduates.
We look forward to seeing you, and please do come with questions.
Please note: Lunch is not included. However, you are welcome to bring your own lunch.
This event will take place in the Cavendish Small Lecture Theatre (C1.52).
View the live webcast of the talk