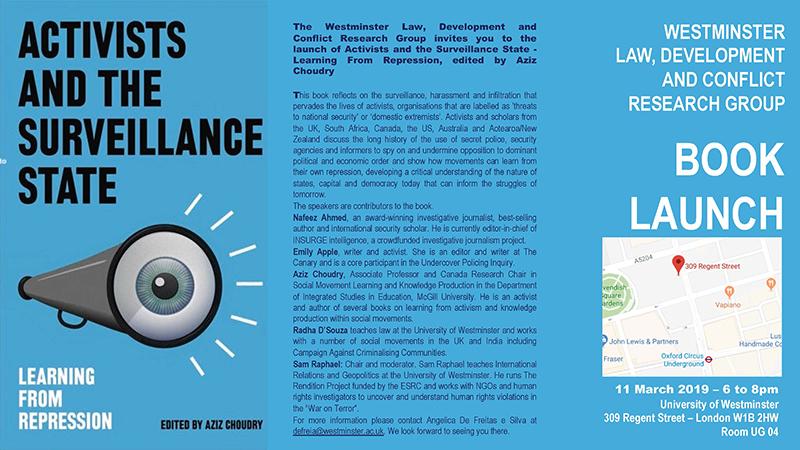 The Westminster Law, Development and Conflict Research Group invites you to a panel discussion on the surveillance, harassment and infiltration that pervades the lives of activists and organisations that are labelled as 'threats to security'. 
The four speakers and chair are: 
Nafeez Ahmed, an award-winning investigative journalist, best-selling author and international security scholar. He is currently editor-in-chief of INSURGE intelligence, a crowdfunded investigative journalism project.
Emily Apple, writer and activist. She is an editor and writer at The Canary and is a core participant in the Undercover Policing Inquiry.
Aziz Choudry, Associate Professor and Canada Research Chair in Social Movement Learning and Knowledge Production in the Department of Integrated Studies in Education, McGill University. He is an activist and author of several books on learning from activism and knowledge production within social movements.
Radha D'Souza teaches law at the University of Westminster and works with a number of social movements in the UK and India including Campaign Against Criminalising Communities.
Sam Raphael: Chair and moderator. Sam Raphael teaches International Relations and Geopolitics at the University of Westminster. He runs The Rendition Project funded by the ESRC and works with NGOs and human rights investigators to uncover and understand human rights violations in the "War on Terror".
This talk also celebrates the launch of Activists and the Surveillance State - Learning From Repression, Aziz Choudry (editor) (Pluto Press, 2019).
This book reflects on the surveillance, harassment and infiltration that pervades the lives of activists, organisations that are labelled as 'threats to national security' or 'domestic extremists'. Activists and scholars from the UK, South Africa, Canada, the US, Australia and Aotearoa/New Zealand discuss the long history of the use of secret police, security agencies and informers to spy on and undermine opposition to dominant political and economic order and show how movements can learn from their own repression, developing a critical understanding of the nature of states, capital and democracy today that can inform the struggles of tomorrow.
For more information please contact Angelica De Freitas e Silva at [email protected].