Gillian Bowen JP has been awarded an Honorary Doctor of Letters by the University of Westminster in recognition of her substantial contribution to the youth and voluntary sector. The award was received at the College of Liberal Arts and Sciences' 2019 autumn graduation ceremony which took place on 11 November at the Royal Festival Hall in London.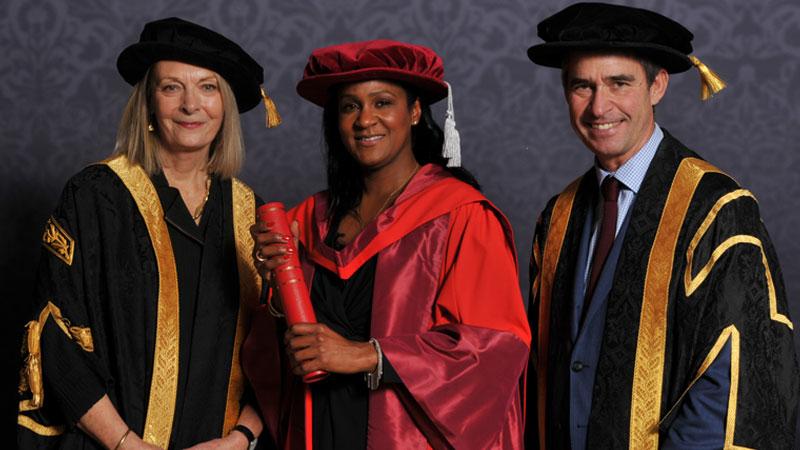 Gillian Bowen is the Chief Executive Officer at City YMCA, London, a charity which specialises in housing services for homeless young people aged 16-25, and which delivers a range of youth support and health services to vulnerable and at-risk youth aged 12-25. She is currently leading the completion of a £20m housing development for homeless young people in London, the first of its kind to be built in the last decade. 
Gillian is a Justice of  the Peace and presides in the Adult and Youth Court for the Central London Bench. She also holds the position of Deputy Youth Panel Chair for the North and Central London region. 
She has worked in the youth and voluntary sector for 20 years and has previously held the CEO position at The Space KC, a young people's health service commissioned by the Royal Borough of Kensington & Chelsea. This service provided health education, community drug treatment and mental health provision. Amongst other roles spanning her career, Gillian was a Consultant at Partners in Evaluation, Director of African Caribbean Family Mediation Service, Diocesan Youth Officer at Southwark Catholic Youth Service and has worked at two Young Offender Institutes.
She helped to found Capital Mass, a joint venture between the Church Urban Fund and the Diocese of London which seeks to see an increase in awareness and engagement from the parishes in tackling poverty and inequality in their communities. She is also a Trustee of youth focussed charities including Lambourne End Limited, LandAid and Just Like Us.
She completed her Master of Business Administration course at the University of Westminster in 2003.
Prof Andrew Linn, Pro Vice-Chancellor and Head of College, said in his citation: "Gillian has used her address book to support our very own Westminster students and alumni. She has participated in the University's 'What It Takes' series of talks, contributing her experiences in 'What It Takes to be a Female Leader' in April of this year. She comments that it was the 'responsibility to give back' that led her to make this commitment, to support young women to take their place in the world 'confidently' and to help them know 'you are not alone'. 
"The young people of Gillian's alma mater are thus among those countless numbers who thank Gillian for her relentless passion to provide more, for her desire to share her talents with others and for others, and for her unshakeable drive to let others know that they are not alone."
Learn more about the University of Westminster's Honorary Awards.