The winners of the Westminster Alumni Awards 2019 have just been announced for the six categories that aim to recognise and celebrate the achievement and talents of the University of Westminster's international alumni community.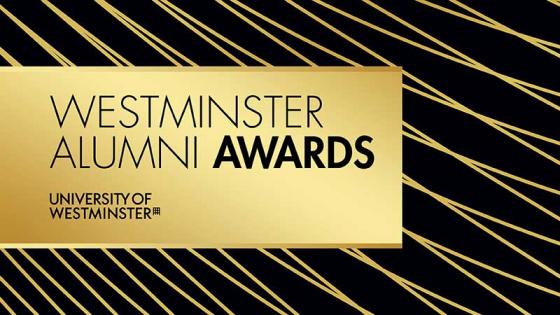 Winners received the most public votes from a group of 18 finalists that were shortlisted from approximately 300 applications received. The awards recognise and celebrate the outstanding achievements of graduates from the University of Westminster, as well as from its predecessor institutions including the Polytechnic of Central London and Regent Street Polytechnic. The awards highlight the variety of ways our graduates make a real impact across the globe.
The recognitions for successful alumni were split in six categories: the Contribution to the Creative Industries Award, the Entrepreneurial Award, the Lifetime Achievement Award, the Outstanding Achievement Award, the Recent Graduate Award and the Social Impact Award.
Ritnika Nayan, who won the Contribution to the Creative Industries Award, was recognised for her achievements, diversity, innovations, and inclusion in the creative industries. She is a graduate from the Music Business Management MA course and started her music company MGMH shortly after completing her degree in 2007. Ritnika dealt with artist management, live concerts and consultancy as well as operating a rehearsal studio in Delhi. In 2008, she was named 'Young Music Entrepreneur' runner up by the British Council and was a finalist for the Study UK Entrepreneurial Award in India in 2018. She is a strong advocate for local music and believes the Indian music industry needs to be at par with the international world. Speaking about the award, Ritnika said: "It is a great honour and privilege to be considered for this award. I feel truly blessed and I can't begin to thank the University of Westminster as well as everyone who voted for me. It means a lot."
Rahat Kulshreshtha was the winner of the Entrepreneurial Award, recognising his innovative and growing enterprising business project in the use of drones in the film industry. After graduating from the Television Production BA Honours course, Rahat directed some films which required shots from very high angles which led him to explore the use of drones. This experience helped Rahat identify a huge gap in the Indian market, where drones were completely non-existent at the time. Rahat set up Quidich Innovation Labs in 2013, as one of the first few drone service providers in India which has worked with leading companies like National Geographic, BBC on Planet Earth 2, Red Bull and PepsiCo.
Dr Michael Taylor was awarded the Lifetime Achievement Award, commending his contributions and achievements over a number of years. He completed a PhD from the Polytechnic of Central London in 1989 and is now a Chartered Engineer who has consistently used his engineering skills to improve the quality of life and the safety of others. On receiving the award, Michael said: "I am stunned and delighted by this result as well as extremely grateful to everyone who voted for me. I am also humbled by the exceptional talents and achievements of the other two finalists, Dr Geoff Mulgan and Parry Ravindranathan. As a Chartered Engineer, I am very proud to have won this award and recognise how instrumental both the University of Westminster and members of staff such as Prof Derek Wilson, Dr Doug Neale and Prof Gerry Cain, have been in shaping my engineering career."
Mariam Ahmadi-Moghaddam, alumna from the Professional Practice in Architecture PgDip course and winner of the Outstanding Achievement Award, was awarded for her personal and professional achievement in the design and construction industry for over ten years. Since qualifying as a British Architect in 2011, her rapid progression has been outstanding. Her work has greatly contributed to the success of high-profile infrastructure projects in London and overseas. She became finalist for the 'Best Woman Architect' of the Women in Construction and Engineering Awards in 2017. As a co-founder of the Women at Weston Williamson group, Mariam is an advocate of creating an even playing field, promoting gender equality and redefining the understanding of women's capabilities and contributions. She works hard to make a real difference, to create change and be the example of female empowerment, albeit a modest but progressive example.
Reasat Faisal, winner of the Recent Graduate Award, is a Commonwealth Scholar who obtained his Masters Degree from the International Planning and Sustainable Development MA course (Urban Resilience Pathway) with distinction in 2017. As a passionate development practitioner, Reasat has combined the knowledge and skills gained at the University to contribute towards reducing urban poverty in Bangladesh. While Reasat's work spans across many areas, he is focusing on solid waste management and fire prevention mechanisms in informal urban settlements. Reasat's project has helped 50,000 low-income people living in urban slums and is being replicated in five cities across Bangladesh. Commenting on his award, Reasat said: "Shaping a better tomorrow for the coming generations by making the cities more resilient against climate change impacts. This goal that I aspire to build up and succeed in being recognised by the Westminster Alumni Award is more of encouragement and a big step for me to achieve and contribute more to the development sector."
Alicia Williams, final winner of the competition, received the Social Impact Award for her positive contributions to the community of St. Thomas, in Jamaica. While studying on the Criminal Justice BA Honours course at the University, Alicia decided to travel to St. Thomas in 2009 where she noticed that a number of children were illiterate, facing trauma after loss of one or both parents and severely lacking in confidence. She began creating planned literacy and numeracy classes as well as art and cultural activities for children. After two years, she decided she would make this work sustainable by creating a safe haven for children from her grandmother's church. Using her £1,000 scholarship award given to her for Outstanding Achievement at the University, she spent the three following years renovating and fundraising for the safe haven, whilst continuing the art, culture and educational activities. Speaking about her award, Alicia said: "I am truly grateful to every person who voted for me and to the University of Westminster for recognising me in this way. Thank you to the children of St. Thomas for showing me and the rest of the world that the light is still incredibly bright in Jamaica!"
Award winners will receive a certificate and trophy to recognise their achievements, as well as an invitation to a celebratory event later this year.
Find out more about the Westminster Alumni Awards 2019 winners.