To mark Volunteers Week, the University's Alumni Team have recognised the contribution that alumni volunteers make to the Westminster community through the Westminster Alumni Volunteering Awards.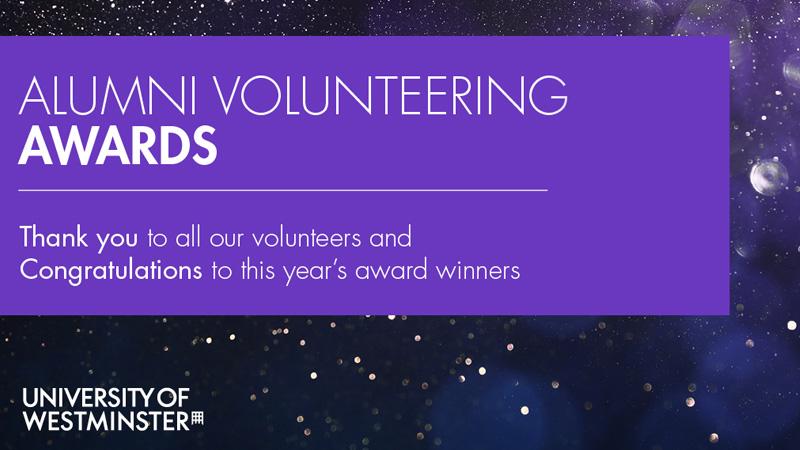 The University of Westminster is fortunate to have hundreds of active alumni volunteers who selflessly give back to the University by donating their time to support and inspire students and recent graduates. Through a range of different programmes and events, Westminster alumni volunteer as speakers, mentors, hosts and ambassadors, giving students more opportunities, support and motivation, aiding the University's mission to help students from different backgrounds fulfil their potential.
With the launch of the new Westminster Alumni Volunteering Awards, the University is celebrating five outstanding alumni volunteers and partners for their contribution to the Westminster community. The awards include five categories, which reflect on the breadth of volunteering opportunities at Westminster and the range of ways alumni get involved.
Applications were open for colleagues and academic staff at Westminster to nominate the outstanding alumni volunteers they have worked with over the past year. All nominations were assessed by a judging panel and after careful consideration, five winners were chosen.
The Alumni Speaker of the Year Award, which is awarded to a graduate who has delivered an outstanding presentation, lecture, workshop or panel discussion to the Westminster community, was awarded to Law LLB graduate Caron Bradshaw MBE. Bradshaw is the Chief Executive of the Charity Finance Group, and recently received an OBE for her services to charity. This April, she volunteered as a speaker on the Westminster Working Cultures (WWC) UK programme, and was commended for her openness and authentic telling of her professional journey.
The Going the Extra Mile Award for alumni who have provided dedicated support across multiple initiatives or activities was awarded to Andre Modenesi who graduated from the Media Management MA course in 2016. Modenesi is the University's Alumni Ambassador for Brazil, a speaker for the WWC Professional programme and has contributed to the first ever Alumni Ambassador Bulletin.
Social Media MA graduate Rogerio Simoes Silva was awarded the Exceptional Support of Students and Recent Graduates Award, which is awarded to an alumnus who goes above and beyond to provide professional development support to students and recent graduates. He has played an invaluable role in providing support to the Westminster community through mentoring as part of the University's Career Mentoring Scheme.
Jenny Garrett MBE has been awarded the Long Serving Volunteer Award, awarded to the marathon alumni volunteers who have supported Westminster for at least three years. Garrett graduated from the Business Administration BA in 2000, and has been a committed, long-serving volunteer and supporter of the Westminster community. She has been a speaker for the 'What it Takes' alumni speaker series three times, and has also been a keynote speaker at 'Women of Westminster' events.
The final award, the Volunteer Partner Award, honours non-alumni partners who recognise the potential of Westminster students and generously offer their specialist knowledge and insights to support their development. Signature Recruitment won this award, who played an invaluable role in providing exceptional support to students and recent graduates through mentoring during the pandemic.
Talking about the awards, Laura Hughes, Head of Alumni Relations, said: "We are incredibly grateful to all of our alumni and partners who are sparing their time to support our students through activities like mentoring, guest lectures and work experiences. Congratulations to our Alumni Volunteering Awards winners who really have gone above and beyond to help our students this past year, and a huge thank you to all of our volunteers for all that you do."
Find out more about the Alumni Volunteering Award winners on the University of Westminster Alumni blog.