The event, part of the 'What it takes' series, took place on Tuesday 19 February at the Little Titchfield Street campus and hosted a panel of Westminster alumni who shared their advice on launching and developing online brands and apps.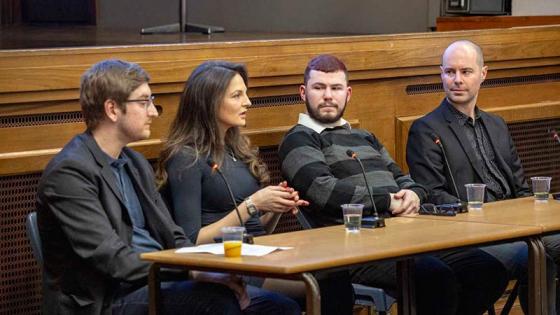 Speakers in the panel included Howard Pull, Strategic Development Director at MullenLowe Profero who graduated from the Marketing MA, Aliona Sladzinskaya, Co-Founder and CEO of PartyMakerApp.com and Co-Founder and Tech Director at dgArt.co.uk who graduated from the Management MA, and Kristian Matthews, Software Developer and Director of Cozy Glow who graduated from the Multimedia Computing and Animating BSc.
Topics covered included the journey from developing to launching online brands and apps, what can make them or break them, and how to find and retain loyal users. The panel provided an insight into how to do this as well as share advice on the skills required to do so, drawing from their varied experience.
Howard Pull, one of the speakers, said: "The What It Takes event was a great opportunity to share knowledge and connect with a passionate community looking to develop the next wave of digital experiences."
The panel discussion was followed by a Q&A session, refreshments and networking.
Find out more about the 'What it Takes' series organised by the Westminster Alumni Relations team.