Smoke Radio's entry for Best Station of the Year included extracts from the University's most exciting events such as the National Student Pride, the Student Union Elections, the Halls of Residence Move In and the University's sports coverage. Another high point for the radio station was being one of the most played student radio stations on audioBoom.
The radio station was also nominated for four other categories, including Best Sport Programming and Best Multiplatform Initiative.
Dr Matthew Linfoot, Course Leader of Radio and Digital Production BA commented on the win: "I'm thrilled that Smoke Radio has been named the best station in the country. It's ten years since I co-founded the station at Westminster, and every year we've seen some brilliant students making radio programmes, and leaving here to work in the industry. Many of our alumni were there to witness our crowning glory at the awards, which was a moment none of the Smoke team will forget in a hurry."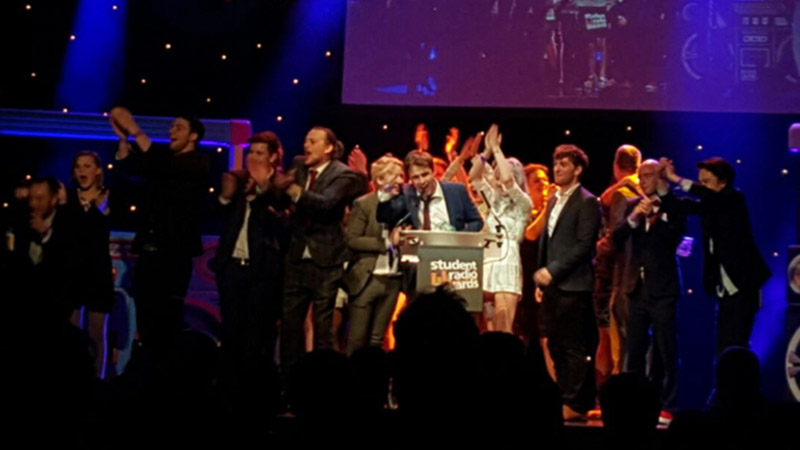 The winners of this year's Student Radio Awards were revealed by top names from BBC Radio 1 and Capital FM at London's Indig02 on 5 November.
"The Students' Union is extremely proud of our Smoke Radio volunteers for achieving such a great award.  It is all thanks to the energy and commitment of the committee and each of the volunteers that get involved in Smoke Radio.  Well Done Team!" Holly Seabrook, Students' Union VP
In previous years, Smoke Radio has won awards including gold for Best Journalistic Programming, Best Marketing and Branding, and Best Specialist Music Programming.
The station broadcasts 24 hours a day online with daytime content starting from 10am through to 5pm, followed by an electric variety of specialist music and speech programming into the early hours of the morning.
Smoke Radio is run by a committee of students, who are selected every year in May by the previous committee and Students' Union staff members. Find out more about this year's committee.