Organised by Smoke Radio, the University of Westminster's award-winning student radio station, the panel aimed to celebrate the progress women are making in a male dominated field and to be a space for panellists to share their experience in media.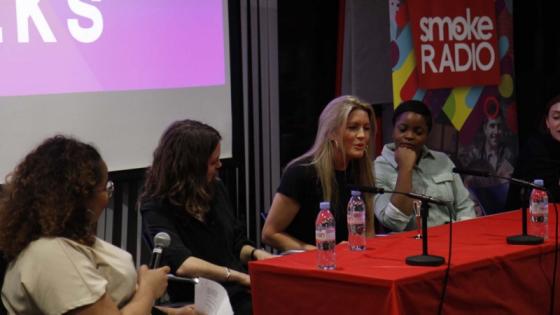 The panel included Producer of BBC Radio 1 and BBC Sounds, Fiona Hanlon; Producer of the Chris Moyles' Show on Radio X, Pippa Taylor; Presenter for CBBC and the Capital FM Weekender, Rio Fredrika; and freelance journalist and one third of The Receipts Podcast, Tolani Shoneye.
Hosted by Smoke Radio student Kaylee Golding, some of the topics the panel included were the challenges faced by the panellists in their own careers, some differences in radio, tips for interviews, how to tackle content block, targeting audiences, advice for young women in the radio, branding, internship applications, and breaking out of the pattern.
Station Manager and organiser of the event, Pulama Kaufman, said: "The event was a huge success! We are proud to have put on a talk that highlighted the great work women are contributing to the media industry and allowed for them to share valuable advice with the attendees, who got to see another side of the industry and to engage with questions throughout.
"We hope to put on many more talks of this kind in the future and we are very appreciative to all the speakers and audience members for attending."
Tolani Shoneye, one of the speakers, said: "It has been great seeing how many young people want to be part of the media and the industry. It is very interesting to see how much has changed and how many opportunities are there compared to what was there before."
The event was free to attend and was held at the Pavilion, in the New Cavendish Street campus. It was part of a series of Smoke Radio Talks that have also included BBC Radio 1 Presenter Scott Mills. Set up in 2004, Smoke Radio is the award-winning University of Westminster student radio station. It is primarily based at the Harrow campus, but they do coverage across London, as well as the Cavendish campus studio. It is run by a team of volunteer committee members and broadcasts 24 hours a day online with daytime content from 9am to 5pm.
Find out more about Smoke Radio.
Find out more about the Radio and Digital Production BA course offered at the University of Westminster.