Eleanor Amoroso, who graduated in 2010, will be displaying her spring/summer 2012 womenswear range at BLOW Presents.
She launched her first label last season after attracting attention for her handcrafted graduate spring/summer collection in 2011.
Since then she has gone from strength to strength with her work being described as a 'commemoration of the forgotten art of craftsmanship', which combines modern elegance with a tough, darker side.
Kate Wallis and Parsha Gerayesh, graduates from the Fashion Design BA Hons course in 2011, will also be taking part in Fashion Week by presenting a selection of their designs at the Vauxhall Fashion Scout graduate showcase.
Andrew Groves, course director of the University's Fashion Design BA Hons, said: "These graduates all showed great creativity during their time at Westminster and being offered the chance to showcase their collections at one of the most prestigious events in the fashion industry is a clear recognition of their talent."
For further information, please contact:
Sarah Evans-Toyne, Melanie Bradley or Lianne Robinson
Broadgate Mainland
Email: [email protected]
Telephone: +44(0) 20 7726 6111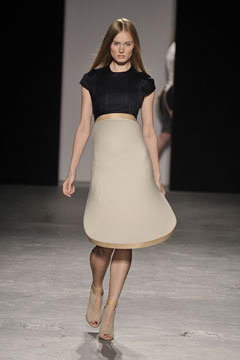 Parsha Gerayesh outfit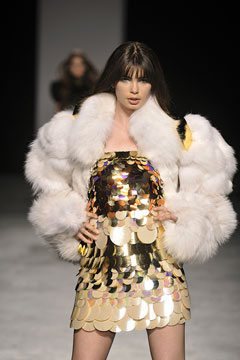 Kate Wallis outfit