The University's Creative Enterprise Centre (CEC) has won the award for Higher Education Team Enterprise at the 2019 National Enterprise Educator Awards.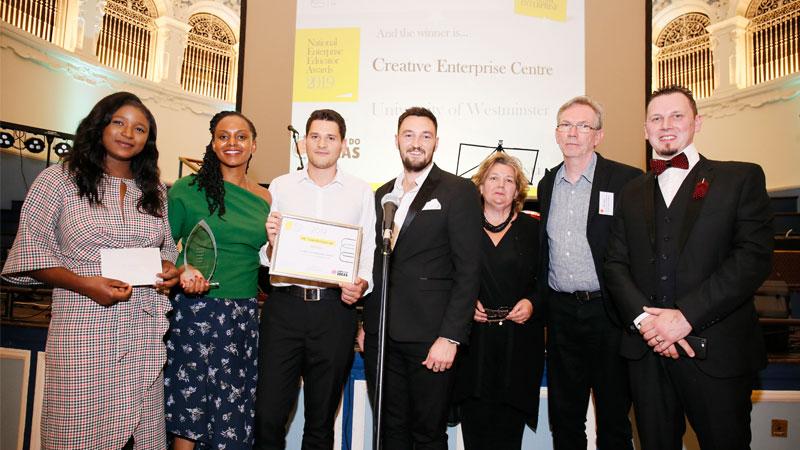 The award, sponsored by Simply Do Ideas, is for a team of Higher Education staff delivering exceptional enterprise or entrepreneurship education inside or outside the curriculum. 
The National Enterprise Educator Awards, organised by Enterprise Educators UK, recognises excellence within enterprise and entrepreneurship education in UK higher and further education, with the winners receiving £1000 in funding. 
The now award-winning Creative Enterprise Centre is a student and graduate enterprise hub founded in April 2017. The team supports students who want to be entrepreneurs, innovators, freelancers, designers and more. Over the last two years the CEC team has delivered an effective enterprise programme, engaging over 3000 students in extra and co-curricular enterprise activities. These include workshops, mentoring, one-to-one business advice, paid freelance work, live briefs, and business competitions. 
Creative Enterprise Centre Manager Shiela Birungi said about the win: "We are so pleased and encouraged to have won the National Enterprise Educators - HE Enterprise Team Award. This serves as national recognition of the CEC's Enterprise Programme and the entrepreneurial and employability successes of the brilliant University of Westminster students and graduates engaging with enterprise initiatives across the University. 
"The award is a testament to team's persistent hard work and passion to support Westminster student and graduates to excel and thrive in their chosen careers during and beyond their studies."