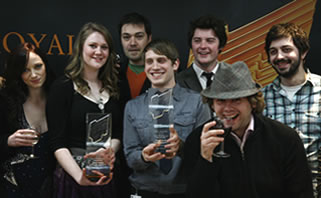 Graduating students from BA (Hons) Television  scooped all three nominations in the Entertainment category, while BA (Hons)  Film and Television Production students and graduates claimed all three Drama  nominations and one in Documentary.
Well over half of the guests at the awards dinner were from the University of Westminster!
Victoria Weatherall, James Smith and Daniel  Kenneally's mock-documentary 'Me and My  Life - 2 Years on' won the Entertainment category, with the judges  commenting that it was "a well cast, fun piece, using good characterisation and  comic timing to great effect". The programme was made as a collaboration  between Victoria  from the BA(Hons) Illustration course and  James and Daniel, from Television.
The winning clip can be seen at  http://www.youtube.com/user/vicschipsproductions
'Tears  of the Son' was the winner in the Drama category, and was  described by the judges as "A heart-warming comedy confronting terminal illness  and death. It had a strong script, some genuinely funny lines, and tackled a  very difficult subject."  The film was  directed by Dean Threadgold, written  by Tom Coldrick and produced by Emma Schofield, with a crew of 25 second and  third year students. For director Dean Threadgold,  it was third time lucky: "After the experience of being selected for the  competition at the Munich International Festival and then coming second at the  'Exposures' Festival, it was fantastic to actually win this time!".
Also nominated in the Drama category from Westminster were 'Foxes in the Underground' and 'If Love is the Answer'. In the  Documentary category 'Bearsac',  produced by Krystian Jones, directed by Jonny Dickinson and edited by Daniel  Davies was commended by the judges as "a sensitive and respectful study" of a  woman with Asperger's, who communicates with people through her teddy bear.
Also nominated from BA (Hons) Television were 'OSTN: London  Calling' an exciting multi-camera music and entertainment event which  showcased music talent from the University. The show was broadcast live in  October 2008 to an audience in Cleveland,   Ohio, involving a large crew and  considerable cross-departmental working. The third nomination was 'Mu:Zone 2009 - The Hammelburg Experience' a documentary made in association with the University's Commercial Music  department about a 'Boot Camp' for musicians and music business students in  Hammelburg, Germany. The panel commented that "Mu:Zone was a professionally  produced factual entertainment piece and was both entertaining and enjoyable."
Jane Thorburn, Course Leader for Television,  commented that the three nominations in the Entertainment category represented  a wide range of approaches, from the multi-camera studio show, to the  documentary approach of 'Mu:Zone 2009 and, a truly funny programme, showcasing  the amazing talent of a student in Illustration.  "I am delighted how well our students have  done and how the nominations reflect the range of work our students do," she  said.
Peter Hort, Course Leader BA Film and Television  Production, added: "Not only was it a great night out for all the film makers,  but the fact that Westminster secured seven nominations out of nine in the  three categories we entered is a testament to the depth of talent amongst all  our students."