The BME Staff Network hosted an End of Year Social which took place at the University's Regent Street campus on Wednesday 26 June.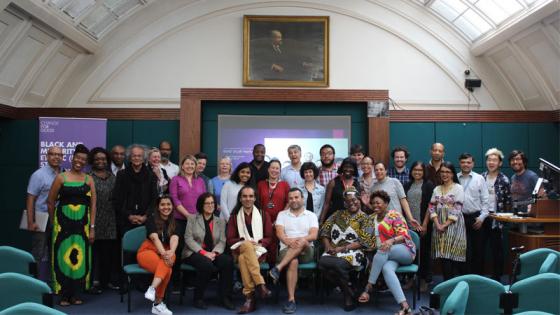 The event was a celebration of all the accomplishments achieved by the Westminster's BME Staff Network during the year and celebrated diversity and culture at the University. 
The Network focuses on building awareness and creating a safe space and environment that supports the development of BME staff at the University. 
Over 30 members of staff attended the event, which was introduced by Professor Dibyesh Anand, Chair of the BME Staff Network. Professor Anand highlighted the importance of the Network, particularly in supporting BME staff at work and for its work alongside the University on policies and procedures to add value to diversity. 
The University's Vice-Chancellor Dr Peter Bonfield, also present at the event, praised the work done by all the BME Staff Network members and particularly from the Chair and Professor Dibyesh Anand as well as from the Vice Chair Deborah Husbands for raising awareness of the Network. Dr Peter Bonfield encouraged attendees to join the Network, facilitating the collaborative work in shaping an inclusive and diverse working environment. 
The audience also had the opportunity to participate in a brainstorming session where they were enabled to share ideas and strategies on how the Network can better serve the BME staff at the University. 
The event concluded with a refreshments session where guests were invited to network and find out more about how to contribute and join the Network.
The next BME Staff Network event will be held on Wednesday 2 October at the University's Little Titchfield Street Campus. The presentation will cover the topic 'Scientific Racism' and will be delivered by Dr William 'Lez' Henry.
To find out more or to join the BME Staff Network, please contact [email protected]