From 18-26 January, 16 Westminster undergraduate students had the chance to explore the professional environment of Mumbai as part of the Westminster Working Cultures programme.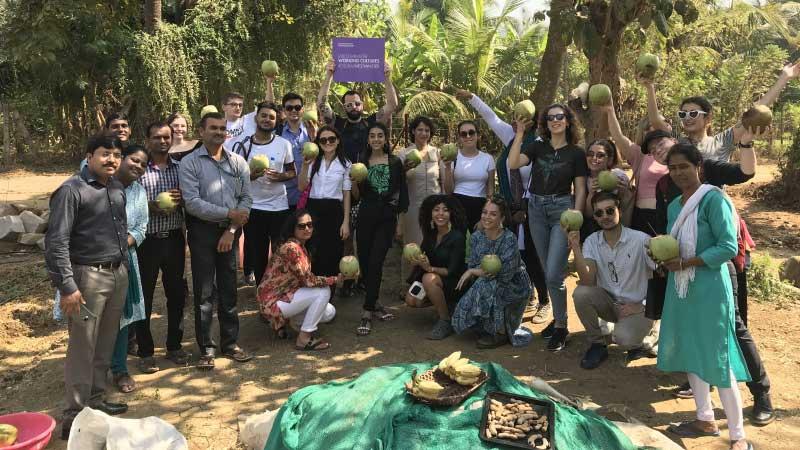 During their time in Mumbai, the students met with several Westminster alumni and partners to learn about the professional landscape in the intriguing city of contrasts. They explored the film industry and Bollywood, advertising and how to motivate yourself, sustainability, the history and future of finance and the challenges facing the healthcare system. The group received excellent insights and advice on what it takes to have a successful career in a dynamic city like Mumbai.
This trip was made possible by the generous funding support from The Quintin Hogg Trust. The visit was led by members of the Alumni and College Administration teams at the University as well as Dr Sumita Ketkar, Senior Lecturer in the Department of Leadership and Professional Development, in the Westminster Business School.
The group began the week with a visit to the Bombay Stock Exchange (BSE) Institute in South Mumbai. Rakesh Nair, Senior Lecturer at the BSE Institute and International Business Economics MSc graduate, coordinated a day of learning, exploring and cultural exchange, through talks about the financial sector in India in an accessible way and a tour around the BSE tower and iconic International Conventional Hall. Nair said: "It was a proud yet emotional moment for me as an [alumnus] to host and present India, capital markets and her economy to present day students of my alma mater."
Students also had the opportunity to learn about themselves through a session with Rohit Bansal, Chevening Scholar and Group Head of Communications at Reliance Industries Ltd, on 'How to be the CEO of your life'. Students prepared in advance through researching a case study to enable their debate and discussion. Bansal was inspirational and motivational and encouraged the students to think critically about their professional journey.
Highlights of the trip also included learning about sustainability and waste management through visits with RUR Greenlife to one of their successful sites, Matoshree's Pearl and the Dharavi Slums India's largest slum, where they saw several small-scale businesses operating, from the production of leather goods to pottery and plastic.
Erin Bush-O'Brien, Fashion Buying Management BA student, said about the trip: "This past week has been one of the greatest experiences of my life and I am so grateful to have been selected. Turning up to the airport to travel 4,500 miles across the world with a group of people you don't know is a challenge but one that has been so rewarding. The international experience has enhanced my employability as it has really given me a boost of drive and confidence that I needed."
Ludovica Siniscalchi Bernabó, Trip Leader and Alumni Relations Officer (Mentoring), said about the trip: "Westminster Working Cultures Mumbai has been a second to none international learning experience for our students, whose perceptions of culture and the world of work in India were radically transformed during the week. Thanks to the insightful exchange with our alumni community, students have developed a unique edge on employability and valuable cultural awareness that I am sure they will champion wherever they go. I feel very privileged to have been a part of it." 
The next trip in the Westminster Working Cultures programme is to Toronto in April. With students from around 150 countries, staff from across the world and a highly international alumni community, the University of Westminster embraces global engagement in all its forms.
Westminster Working Cultures have a rich mix of international partnerships in over 20 countries worldwide and place particular emphasis on providing international opportunities for our students. Our research addresses global themes and is sustained by international collaborations. The University is an international institution, located in the heart of London.