Organised and managed by the Royal Institute of British Architects (RIBA) on behalf of the Commonwealth Association of Architects (CAA), the competition forms a part of the CAA 50th Anniversary and International Summit hosted by RIBA. The judges' panel included Rukshan Widyalankara, President of CAA; Stephen Hodder, President of RIBA and Peter Oborn, RIBA Vice President International.
The aim of the competition was to highlight the diversity of challenges, opportunities and responses faced by cities throughout the world, from large nation states to small island communities.
Cook's project addressed the issues of dramatically rising population, diminishing fossil fuel resources and climate change, designing the Camdeboo Solar Estate looking to provide an alternative energy strategy and agricultural resource for South Africa's burgeoning cities and rising energy demands. The Estate is designed to have an array of Concentrated Solar Power (CSP) plants that are hybridised with the long-practiced technique of terraced farming. The masterplan arrangement, its axial pathways and internal orientations are calibrated to the positions of the celestial objects within our solar system at the time of opening, 2050.
The proposal also embeds a new economy of solar tourism within the region, where agriculture, energy production and celestial movements become entwined and experienced as a new form of urban and territorial restructuring at a both a landscape and building scale.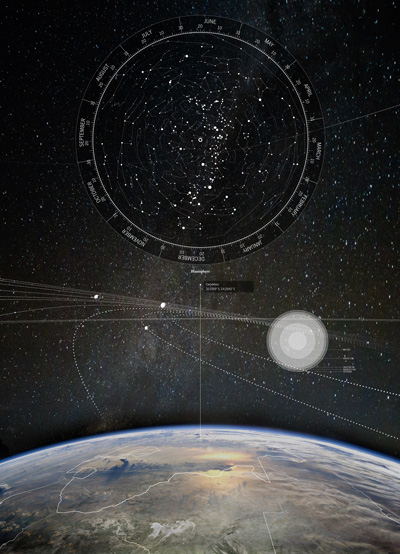 Cook said: "It was an absolute honour and surprise to be awarded the first prize in the 'Visualising the Future of the City' competition, especially given the such high standard of work submitted by all the entrants. I'd like to pass on my thanks to the RIBA and their judging panel, and my two tutors Lindsay Bremner and Roberto Bottazzi from Design Studio 18, who developed and guided me through the ambitious and challenging studio brief that inspired the project."
David Dernie, Dean of the Faculty of Architecture and the Built Environment, said: "This is a really outstanding piece of work that fully deserved this prestigious award. It is testament to the academic rigour and creative intensity that characterises the Architecture studio culture at the University of Westminster."
Cook's project was recently exhibited at OPEN 2015, the University of Westminster's architecture and interiors students' end-of-year exhibition, as part of the London Festival of Architecture 2015. Explore the OPEN 2015 catalogue to learn more about Cook's Camdeboo Solar Estate and the other students' exhibited work.
The University of Westminster is one of the UK's leading centres for the study of Architecture and the Built Environment inspiring more than 2,000 students at its teaching base at Marylebone, in central London. The Faculty aims to explore the core subject areas that address the future shape of our cities and encourage the dynamic thinking that makes our courses the envy of others.