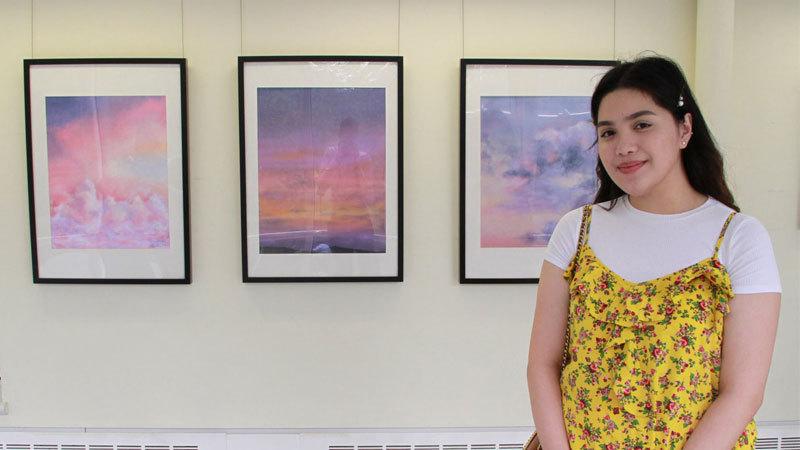 The artwork lines the walls of the corridor gallery linking St. Mark's Hospital with Northwick Park Hospital in Harrow. Along with local artists, the work of Westminster students has been displayed in this area for the past two years.
The students' pieces are in response to the title 'Biophilia – Reconnecting with Nature.' Biophilia encompasses the love of and attraction to nature and natural processes. The students, from the Westminster School of Arts, were asked to propose their pieces in January, which were then presented to the Friends of St. Mark's committee for feedback and approval.
The students chosen to exhibit their artwork were Georgina Agisiloan, Angel Bacani, Gloria Dimitrova, Pooja Maher, and Amelia Potter from the Illustration and Visual Communication BA Honours course, and Karina Kaye and Roisin Phelan from the Fine Art Mixed Media BA Honours course.
Art has been shown to have considerable potential to aid healing. The work exhibited will create a positive welcoming atmosphere that aims to improve the wellbeing of patients and staff who use the hospital. The artwork will be displayed in the corridor gallery for at least a year.
Senior Lecturer in Illustration and Visual Communication Emma Dodson, who sent out the brief, said of the exhibition: "There is genuine value in this simple exchange between neighbours. Staff, patients and visitors to the hospital benefit from the students' lively artwork, full of colourful depictions of natural forms and the students have a very appreciative new audience for their work."
Find out more about the Fine Art Mixed Media BA Honours and the Illustration and Visual Communication BA Honours.