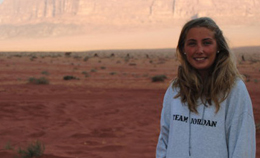 The event, Young Reporters against Poverty, organised by the EU selects 33 young journalists from across the EU's 27 member states.
It says they're chosen by how passionate they are about development issues.
Lucy, a student on the Masters programme at the University of Westminster submitted an essay on Sexual Violence in the Developing World.
In it she detailed the complexity of sexual violence and how the EU's stance offered a solution.
Rising Journalist
Responding to the news of her win, Lucy said:
"This is a really great honour and I am looking forward to working with other people with an interest in the developing world as well as improving my journalistic skills".
Her previous journalistic work has included writing for ROAM– rough guides magazine, Travelmag and South East Asia Backpack magazine.
Before joining the university's course she had been working in Jordan for Care International UK with women and disabled children.
More recently she covered the demonstrations of the National Union of Students campaigning for a review of the government's student fee hike.
The march turned violent. She captured pictures and blogged which ITN, Britain's largest commercial news network showed an interest.
Profiling Development Issues
The EU scheme says it will provide hands-on training about development as well as teach students how to report "live" from the European Development Days (EDD).
The three most successful students will then be given a five-day press visit to one of the European Commission's Delegations in Africa.