The fifth Annual International Conference of the Immersive Learning Research Network (iLRN) was hosted by the School of Computer Science and Engineering on 23-27 June at the University of Westminster.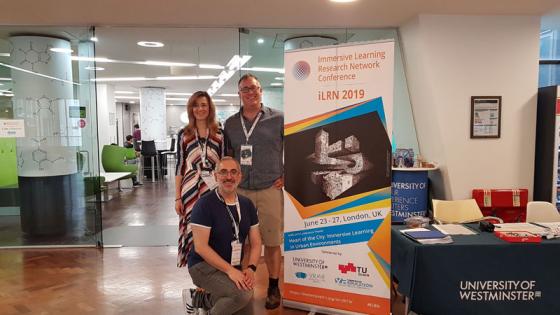 iLRN consists of a multidisciplinary network of practitioners that brings together diverse voices from computer science, human factors, education and training community, as well as from business and industry. Across these interdisciplinary contexts, the Network aims to define the properties, conditions, procedures, states, measures and outcomes that combine to reliably create an effective immersive learning experience for learners. 
The theme of the conference this year was the 'Heart of the City: Immersive Learning in Urban Environments', chaired by Dr Daphne Economou and Markos Mentzelopoulos from the School of Computer Science and Engineering. Jeff Fergusson and Drew Cattanach also organised and facilitated two successful workshops titled 'Introduction to Augmented Reality' and 'Narrative Designs using game engines' respectively.
The event provided a number of academics with the opportunity to present their research outputs and enabled a number of undergraduate and postgraduate students to take part in the conference, helping out as volunteers and presenting their work to the audience.
Seven outstanding keynote and feature speakers presented inspiring talks and state of the art research output at the conference. They came from academia with defining roles in VR and AR in education, including Professor Mel Slater from the University of Barcelona and Dr Nigel Newbutt from the University of the West of England, as well as from the industry such as Facebook, British Telecoms, Promethean and Geo Immersive Reality. 
iLRN2019 offered a high quality academic as well as social programme, and attracted developers, educators, professionals, and researchers from 14 countries, all with the goal of collaborating to develop the scientific, technical, and applied potential of immersive learning. The event also attracted various companies that demonstrated pioneering solutions, the transformation of education and frontier technologies.
The University's Vice-Chancellor Dr Peter Bonfield, also present at the event, emphasised the relevance of the conference to the University's future thinking and strategy.  
Attendees commented extremely positively on the quality of the conference, the facilities of the University, the leadership and the professionalism of staff at all levels.
Dr Jonathon Richter, the Executive Director of iRNL conference, said about the event: "This was the best iLRN Conference yet. Thanks to the absolutely wonderful organizing team! I am so proud to work with these amazing scholars, visionaries, and fabulous friends. We would like to thank attendees, local organisers and volunteers at iLRN 2019 for making this such a successful conference. We had a fantastic time in London."
The next iLRN conference will take place in the California Polytechnic State University in San Luis Obispo in June 2020. Academics from the University of Westminster have been assigned leading roles in the programme committee of iLRN 2020. 
Find out more about the School of Computer Science and Engineering.
Find out more about the Immersive Learning Research Network.