From 10 to 14 June, students from the School of Computer Science and Engineering participated in an intensive week of work in the Studio-Lab of Art and Science (SLoAS), exploring different perspectives and new ways of expression by using technology in a creative way.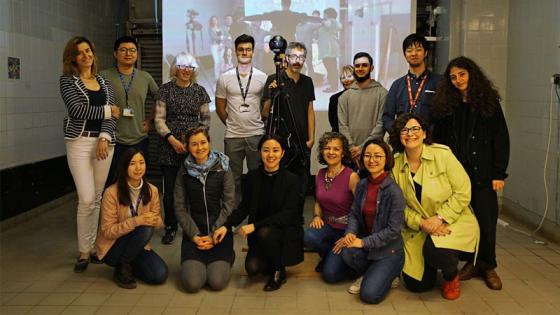 The activities involved aimed to seek new ways of seeing and understanding the environment in which we live and act. The students experimented with the use of VR and AR technologies, created 3D scans of their bodies, captured their motion and sounds, and created avatars replicating their physical appearance and motion. They also created 3D prints and wax replicas of their bodies. The results of the workshop were presented at an installation at the Pop Up Exhibition at Kensington.
The SLoAS is a workshop bringing together people from different disciplines such as Fine Art, Architecture, Neuroscience, Psychology and Interactive Technologies. It was organised in collaboration with the postgraduate Art programme at Central Saint Martin's UAL, the MArch Design for Performance and Interaction programme at Bartlett SOA at UCL and the undergraduate programme of Experimental Psychology at UCL. 
Jeff Ferguson, a Lecturer on the Computer Games Development BSc Honours course at Westminster and the University's XR Lab facilitated the activities and provided technical support to help the artists design and implement their concept and create a final installation that was presented at the exhibition. The XR Lab operates across two University of Westminster sites, Marylebone and Cavendish Campus, in order to help Westminster students integrate emergent technologies such as augmented reality and virtual reality into their work.
Jeff said of the event: "The new team of technicians, artists, and virtual/augmented reality programmers at the XR Lab each contributed from their unique skillsets to complete the rich technical and aesthetic final work, and the challenge of a complete production to a tight deadline focused our minds on some combined techniques that will be useful to ourselves and students in the future." 
Dr Daphne Economou, Course Leader of the Digital Media Development BSc Honours course, organised the event.