A Westminster Music graduate and a current undergraduate Music student both had the opportunity to perform on the Barclaycard Stage as part of the Open House programme providing free entertainment at the British Summer Time festival that took place in Hyde Park between 5-14 July.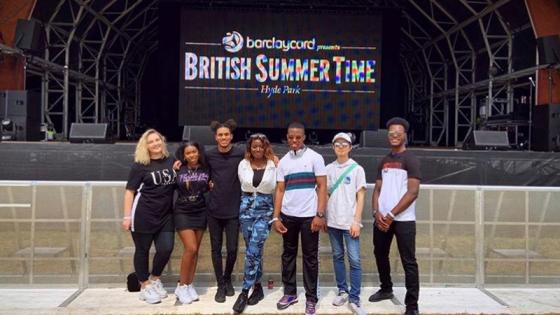 Other performers at the British Summer Time festival included Celine Dion, Stevie Wonder, Lionel Richie, Bob Dylan, Barbara Streisand, Florence & The Machine, Robbie Williams and The Black Eyed Peas.
Elyona Biney, who is a student on the Music: Production, Performance and Enterprise BA BMus course, played her recently released single 'Feel the Rain' for the first time live on BST's stage on 8 July. The 20-year-old RnB and soul singer from London has been singing since she was eight years old, occasionally performing at gigs, and at Glastonbury Festival more recently. She has also gone on tour doing backing vocal for ELIZA.
Speaking about performing at the British Summer Time festival, Elyona said: "This opportunity came through my lecturer Hussein Boon who informed me that BST were looking for some artists to perform for their mid-week event. It was such a great time - I was able to bring some great people along with me including Gregton Cameron (drums) who also goes to the University. It was such a good vibe on and off stage and being surrounded by those I love most made it even better!"
The other up and coming Westminster music talent, Tally Spear, played on the Barclaycard Stage on 9 July. The 23-year-old music maker from London regards herself to be an Alt-Pop artist. Listen to Tally Spear's music on Spotify.
Hussein Boon, Course Leader for the Music: Production, Performance and Enterprise BA BMus course, said: "We are rightly proud of the continuing success of our students and graduates in all areas of music. Their strong showing this year at some of the biggest UK festivals is testament of their abilities and the support they receive whilst on the course and continues post graduation. We have a strong emphasis and tradition on practical experience as a key part of the course and the variety of artistic outputs of all our current and former students is evidence and validation of this approach. Our association with industry is long standing and very well developed, and BST are to be praised for their approach that offers opportunities to developing and emerging artists."
The Westminster talents' performances come after two other first year Westminster Music students played in Stormzy's band at Glastonbury Festival that took place in June this year.
Learn more about Music courses at the University of Westminster.