The University of Westminster Menswear Archive has announced the most extensive exhibition devoted to menswear to be staged in the UK will launch in October 2019 in the University's exhibition space Ambika P3.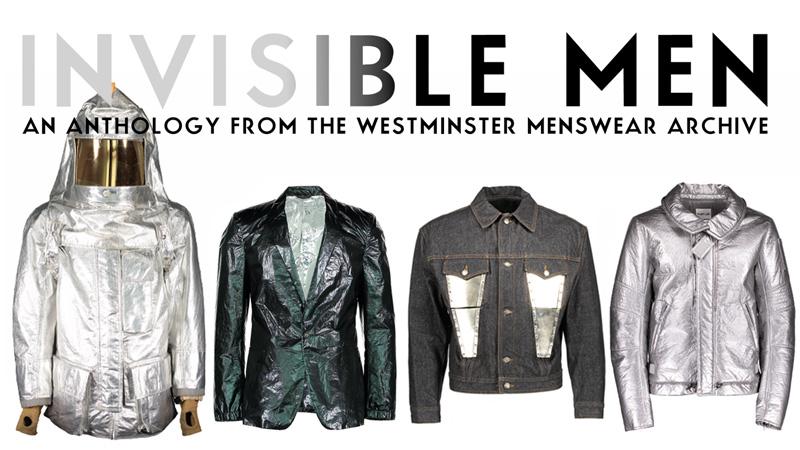 Drawing exclusively from Westminster Menswear Archive, Invisible Men will cover the last 120 years of predominately British menswear through the display of over 170 garments, the majority of which have never been seen on public display. 
Opening on Friday 25 October 2019, this four-week exhibition will be arranged into twelve sections, presenting designer garments alongside military, functional and utilitarian outfits. It will explore the design language of menswear, which predominately focuses on the replication of repeats archetypal functional garments intended for specific industrial, technical or military use.
Invisible Men will illustrate how designers have disrupted these conventions through minimal, yet significant modifications to produce outcomes that both replicate and subvert their source material.
Professor Andrew Groves, Professor of Fashion Design at the University and curator of Invisible Men, said: "Both in museums of the decorative arts or dedicated fashion museums, menswear is significantly underrepresented. Since the launch of Westminster Menswear Archive in 2016, we have amassed over 1,700 examples of menswear design, and the archive has proved extremely popular with students and industry visitors alike.
"We are beginning now to tell the untold story of menswear, and I'm incredibly excited that this exhibition will allow the public to see highlights from the collection, most of which have never been on public display before. I am also hopeful that it will lead to other institutions and museums to address the history of menswear in a more meaningful way and to give it the prominence that it deserves within their exhibition programmes." 
Dr Danielle Sprecher, co-curator of Invisible Men, also said: "This exhibition showcases the strength and diversity of the Westminster Menswear Archive collection and its significance as an educational and research resource. The range of pieces that we have means, for example, that we can display an original USAF 1950's flight jacket alongside a variety of different designer interpretations. By giving our students the opportunity to study original garments, the collection feeds their creativity and design knowledge."
Highlights of the exhibition will include a section devoted to examples of Alexander McQueen's early menswear designs covering the years from 1997 to 1999 as well as a section devoted to the C.P. Company Urban Protection range that was launched in 1998 and has been highly influential on a generation of menswear designers.
Attendees will have the chance to see examples from contemporary British menswear designers including Craig Green, Liam Hodges, A Cold Wall*, Aitor Throup, Burberry and Palace.
There will also be a range of designer 'source garments' covering military, industrial and occupational garments including items from the British Army, the Royal Air Force, Greater Manchester Police, the General Post Office and Her Majesty's Prison Service.
Find out more about Westminster Menswear Archive.