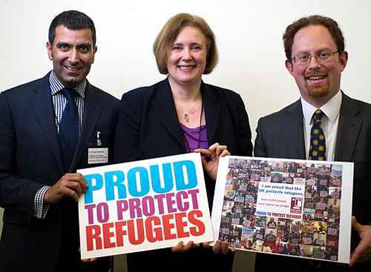 (photographer) Bill Knight
Westminster School of Law  Visiting Lecturer, Dr Paresh Kathrani, participated as a panellist at an open debate on refugee integration at Parliament.  The debate was organised by the Refugee Law Initiative (RLI), School of Advanced Study, University of London, on 15 March 2012.
The open debate, which was chaired by Julian Huppert MP, Chair of the All Parliamentary Group on Refugees, and included Donna Covey, Chief Executive of the Refugee Council, was a culmination of a series of five seminars held at Senate House, University of London, and the Institute of Advanced Legal Studies, to commemorate the 60th anniversary of the Refugee Council.
The seminars were delivered by renowned experts in the field of refugee integration. They covered a diverse range of themes from the role of refugee experience in integration, to refugee identity and how this had been affected by the growth of European securitisation policies.
Dr Kathrani, who co-chaired these seminars in his capacity as the Practice Coordinator at the RLI, was invited to be a part of the panel at the concluding open debate, where he summarised the seminar series and spoke about the growing importance of employment in refugee integration. These opening remarks were followed by a lively debate where the audience questioned the panellists on a wide range of subjects, including the portrayal of asylum seekers on the media, the detention of asylum seekers and employment rights.
Download a copy of the Pamphlet that was produced for the event here