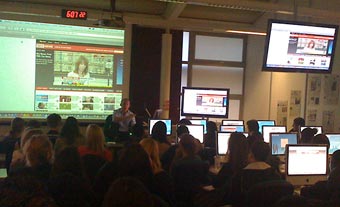 Amid a stagnant economy and what is widely recognised as difficult job market, students from the MAJI programme have made huge gains in their chosen careers.
Abigail Mowbray, who blogged at AM World has beaten thousands of applicants to win a place on the highly competitive BBC producer training programme and is off to BBC Northern Ireland. Sophie Hudson, whose student news copy can be found on the student site WNOL, is working for Third Sector magazine and Vic Maw is freelancing for the FT.
Of the original group of 30 MAJ students few such as Kirsty Manley, Clement Silverman, and Amy May Shead have not already got staff jobs. University lecturers such as Jane Whyatt however expect that to change, as work experience invariably leads to paid work. Amy is at GMTV, Kirsty at Fox News London Bureau, and Clement is with CBBC.
More success
Andrew Stewart, and international students Denisa Morariu, and Doris Okafor, have all won places on the CNN internship scheme at the London Bureau, while Sinead Farmer is freelancing at BBC Westminster and Simone Knox at BBC World Service.
Stefanie Linhardt is on a nine-month paid internship with Standard and Poor's London newswire service and Rosie Duffield is now a staff writer at www.musicroom.com
Holly Wallace has signed a BA contract with BBC Radio Four's Today Programme and also got her own show on Hayes FM. Nathan Rowden is a staff reporter on the Welshpool local newspaper and freelancing on local radio at weekends, and Laura Gilmour is about to start as a staff researcher at Mentorn.
The students' successes are not only confined to the UK. Kay Obibi is waiting for a visa so she can take up her new job as drive time presenter on Power FM in Orlando, Florida and Gurdeep Hundal starts a three-month paid internship with the Health Desk at City Television in Canada, whilst Kate Ross is about to start an internship with the International Herald Tribune in Paris.
Back in the UK, Emily Paul starts a full-time job with a PR company, just days after handing in her final project. Helen Chandler has been offered more freelance work at CNN
Last year's graduates
Graduates from the 2009-9 programme such as Helen Varley, Rachel Wood and Laura-Jane Hawkins have secured jobs amid fierce competition in last year's crisis economy. Helen is working for CBBC, Rachel is freelancing for CNN and Laura-Jane is working for BFBS. Faye Lyons-White is working for capital radio and Charlotte Hayward, a multi media journalist, is with radio station KMFM in Kent. Finally, Marianne Halavage is working for the Glasgow Herald.