On Monday 10 June, the University of Westminster hosted an inaugural Vice-Chancellor's Employability Awards Celebration, which took place on Little Titchfield Street's Campus.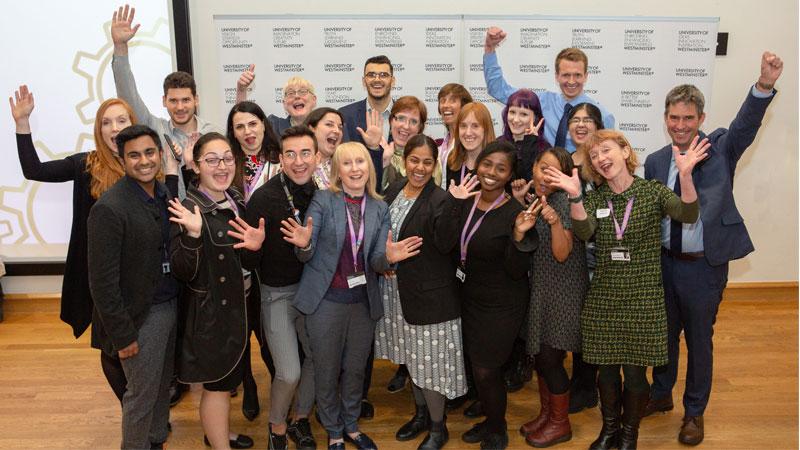 The event highlighted the outstanding achievements of Westminster students and the valuable contribution made by the University's alumni, community partners and employers. 
Although the Careers and Employability Service have been annually celebrating employability since 2013, this was the first year that the University's Vice-Chancellor, Dr Peter Bonfield, was patron, making this a very special event. 
Dr Peter Bonfield spoke to the audience and emphasised the importance of employability, one of the University's four core objectives. He also thanked the University's sponsor, Santander Universities UK, as well as employer partners, mentors and alumni. 
Caroline Lloyd, Director of Student and Academic Services, hosted the awards and welcomed external speakers; Sotiris Kyriacou, Head of the London Skills Development Network, NHS and Ioanna Rossi, Mentor and Impact Development Manager, Kingston University.  
Thirty-two students were awarded for special achievements in taking part in the Westminster Employability Award – a new initiative that encourages students to participate in career-development activities for points towards the Award. 
Other categories included the Explore Teaching Awards, Placement Student Awards, Mentoring Student Awards, Student Ambassadors, Employer Awards and Mentor Awards. 
Two of the student award winners spoke to the audience and shared their experiences of taking part in the initiatives and the skills that they had gained. 
Jon Woodburn, final year History and Politics student and Westminster Employability Award Gold winner, spoke about engaging with and completing the Westminster Employability Award.
 Brittany Kemp, final year Digital Media and Communication student and DCDI Placement winner, shared her placement experience at Bobb & Cole Ltd and told how this experience had helped her boost her career. Sharing tips and advice to students, she said: "You should take up opportunities that challenge you; that's how you develop."
The event also celebrated the achievements of the University's Careers and Employability Service team who were recently shortlisted for the 'Best Employability Strategy' at the Target Jobs Awards 2019. 
Monica Deshpande, Head of Employability and Inclusivity, commented: "Congratulations to all the winners of our very first Vice-Chancellor's Employability Awards. Congratulations, also, to all our students who have gone the extra mile to complete an internship or placement, to participate in the Westminster Employability Award or to complete one of the many employability programmes and activities on offer at Westminster.  
"A huge thank you to all our employer partners for your support. And last, but certainly not least, congratulations to our Careers and Employability Service! It's been an enormously rewarding year." 
More information about the Award categories and a list of the winners is available here. Official photos from the evening can be viewed here.