Organised by a UK-German consortium, the event welcomed speakers from across Europe to the workshop which took place on Friday 14 June at the Regent Street campus.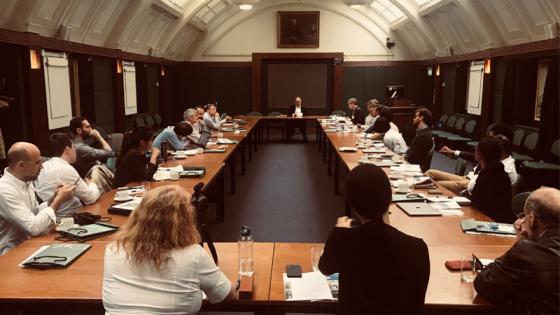 The workshop explored the economic issues, challenges and responses to conflicting trends of greater interconnection and isolation, which are shaping the world economy. It considered questions around the current trade dispute between China and the US, as well as the China-led Belt and Road Initiative aimed at promoting greater interconnections.
The consortium included the Institute of East Asian Studies from the University of Duisburg-Essen, CEAMeS from FernUniversität in Hagen, and the Westminster Business School and Contemporary China Centre from the University of Westminster. 
It was co-organised by Westminster's Dr Karen Jackson alongside Professor Dr Yuan Li (University of Duisburg-Essen) and Professor Dr Hans- Jörg Schmerer (FernUniversität in Hagen). Speaking about the event, Dr Jackson said: "We are very grateful to all the delegates who joined us from across Europe, some old friends and also new acquaintances."
The event brought together an excellent array of scholars from all fields related to international economics focused on drivers and consequences of trade between China and the rest of the world. Speakers gathered from the London School of Economics, University of Gothenburg, University of Duisburg-Essen, University of Wuppertal, Heidelberg University, FernUniversität in Hagen, Aston University, Lazarski University and the University of Portsmouth.
 It also included a keynote speech from Professor Kerry Brown from King's College, who is a leading international expert on China and previously worked as First Secretary at the British Embassy in Beijing. 
Find out more about the China Media Centre at the University of Westminster.