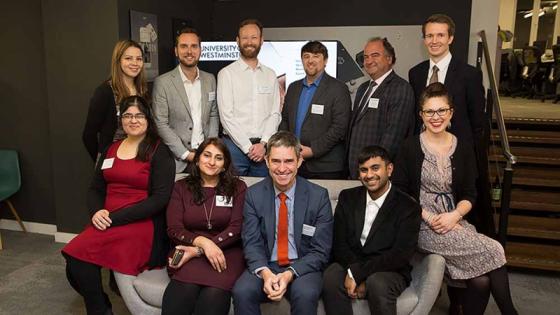 On Tuesday 26 March, around 40 of our dedicated mentors, guests and staff gathered for the first official mentor to mentor networking event, sponsored by digital products company Tigerspike and hosted at their office in central London.

The event welcomed a variety of alumni and non-alumni mentors from a predominantly digital background, to share their experiences, listen to speeches in support of diversity and enhancing of female representation in technology, and meet with The University's Vice-Chancellor and President, Dr Peter Bonfield.

Aiming to create a space to develop connections within the mentoring scheme, the event offered our committed mentors an opportunity to learn from each other and expand their networks within their professional fields. Following its success, there are plans for more industry-specific mentor networking events in the future.

A proud supporter of the mentoring scheme at the University, Dr Bonfield said in his welcoming speech: "We're hugely grateful for our alumni and other people from business who come and support our students through mentoring. It's a really important part of their educational experience, getting all sorts of wisdom that helps them get through their courses and achieve things at the other end.

"What we're really keen to do with our mentors, our alumni, sponsors and others is to have more of this type of thing [networking events] which are focused on you. Thanking you and celebrating the contribution you've made to our students but also trying to bring people together we hope will form partnership, connections and learn from each other."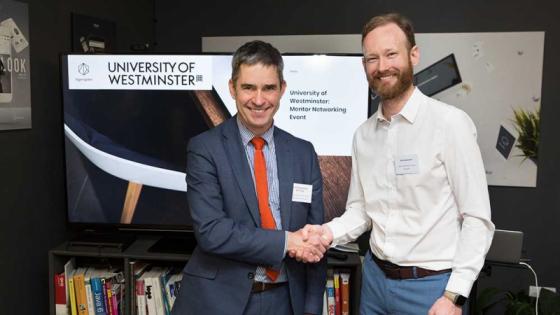 Vice-Chancellor Dr Peter Bonfield & Josh Haagsma (General Manager, Europe, Tigerspike)
Speaking on the evening, Josh Haagsma, General Manager of Tigerspike (Europe), said: "We're delighted to be able to offer this to mentors, including myself. Tigerspike can clearly see the personal growth it gives our staff to be mentors. Also that feeling of giving and passing on professional lessons to the next generation of what we find to be a bright and engaged group of University of Westminster undergrads is a really rewarding experience."
Since 2010, the CES Mentoring Scheme has supported, inspired and enabled students to significantly develop their skills for the workplace and increase their employability. The aim is to connect Westminster students and recent graduates with professionals to form a long-term mentoring relationship which will support them in their graduate career.
Find out more about the mentoring scheme offered at the University of Westminster.

Cover picture: Top left to right: Natalie Balchin (Alumni Relations Officer- Mentoring), Jordan Scammell (Development Team Manager), Josh Haagsma (General Manager, Europe, Tigerspike), Chris Smith (Director of External Relations),  Alexander Bolotov (Principal Lecturer, School of Computer Science and Engineering), Andrew Williams (Mentoring Officer). Bottom left to right: Zurria Qureshi (Mentoring Coordinator), Iram Sial (Careers Consultant), Dr Peter Bonfield OBE FREng (Vice-Chancellor and President), Anick Soni (Mentoring Administrator), Alyssa Martin (Alumni Relations Team Manager).