Holly Priestley, an alumna of the Fashion Design BA Honours course, is exhibiting her graduate collection at the Barnsley Civic.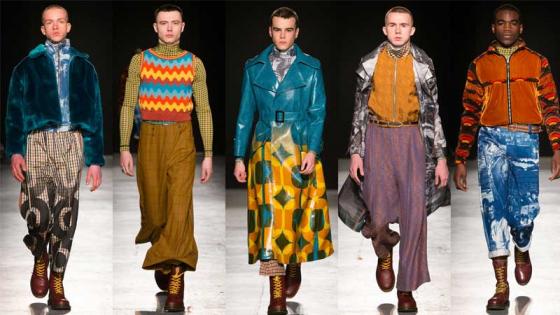 The collection is inspired by elements of Northern working class culture, including the 1984 Miners' Strike, acid washed denim, gaudy wallpaper and tarpaulin. It has previously appeared in Dazed Magazine and has been featured in London Fashion Week and the Transatlantic Fashion Week on Cunard Queen Mary 2. 
Now the collection is showing in Holly's hometown of Barnsley, where the original inspiration for the garments began. The Barnsley Civic is the hub of creative arts, showcasing the best in theatre, music, comedy, dance and exhibitions.
As part of her latest exhibition Holly was featured in Living North magazine. In the interview she said: "The North definitely has a distinctive style – I feel we take a real pride in our appearance.
"I've always been interested in my family history and the surroundings I grew up in- they've heavily influenced my work. Barnsley is shaped by its industrial heritage: my dad was a miner, my grandad worked in the steel works and my grandma and her family worked on the canals."
Professor Andrew Groves, the Course Leader for the Fashion Design BA Honours course, said about the work: "Holly's collection was a fantastic examination and celebration of ideas of working-class culture rooted in her background growing up in Barnsley. There is a depth to her work within her exceptional use of print, fabrication and imagery that benefits from it being seen up-close and beyond the confines of the runway."
The exhibition is taking place at the Barnsley Civic from 14 September to 12 October. 
Find out more about the exhibition at the Barnsley Civic website.