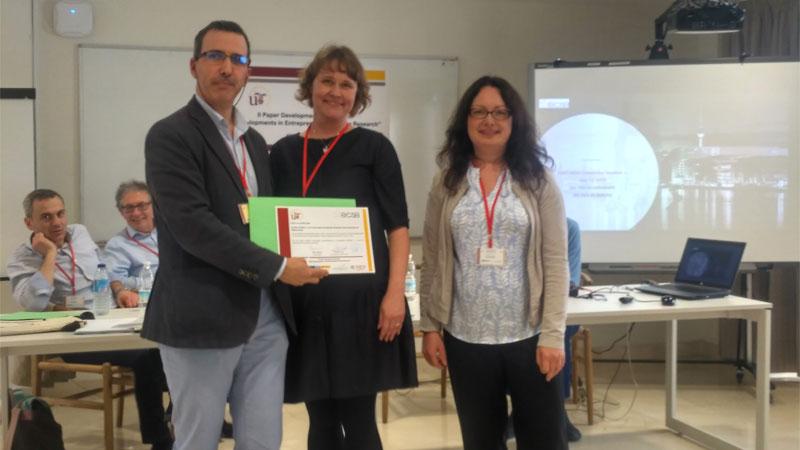 The research conference, organised for the second time by the University of Seville and supported by the European Council for Small Business (ECSB), focused on the publishing process in reputed academic journals in Entrepreneurship.
The entrepreneurial field attracts increasing attention from researchers and PhD students around the world. The aim of the conference was to help participants develop their research results into papers that may be fit for publication in top-tier academic journals.
The conference received many applications from around the world and only 25 participants were selected to present their papers to a panel of highly-regarded entrepreneurship scholars, who reviewed the candidates' studies and provided them with suggestions and recommendations.
Two PhD candidates from Westminster Business School, Anette Kairikko and Sirpa Lassila qualified among the four Best Papers, with Anette winning the Best Paper award. 
Anette's paper, supervised by Dr Spinder Dhaliwal and Dr Luca Cacciolatti, was entitled 'Leveraging embeddedness in accelerator networks – a study of internationalizing edtech startups in the Finnish context'. The study demonstrated knowledge about the role of accelerators in the exploration and exploitation of international opportunities.
Speaking about her experience at the conference, Anette said: "It was absolutely brilliant to receive feedback from the well-known scholars and editors of top entrepreneurship journals, who were in the panel."
Sirpa Lassila's paper, supervised by Professor Alison Rieple and Senior Lecturer Caroline Ennis, was entitled 'The role of causation, effectuation and bricolage in new service development'. It focused on the processes of new service development and suggested that emerging entrepreneurial theories of causation, effectuation and bricolage are key perspectives for understanding these processes in dynamic and resource-scarce environments.
She also shared her positive feedback on the event: "I genuinely enjoyed the high-class keynotes and presentations. The seminar aimed to develop a fruitful and intimate working atmosphere, which was successfully achieved. Especially the written feedback from the editors was valuable for me in guiding to write better journal articles."
Alison Rieple, Professor of Strategic Management, said: "This was a very prestigious conference with some of the biggest names in entrepreneurship research presenting their own work as well as mentoring participants. It is to our Westminster students' great credit that they did so well. Mind you, as someone very familiar with their work it is not a surprise! Their work is groundbreaking, insightful and, above all, interesting. And all of this is achieved in a language which is not their first one."