Screened on Saturday 15 June, the film, titled 'Dear Stranger', addresses mental health issues on young people and was produced by Westminster alumnus Ranw-Aso Rashid, alongside his students at the Friern Barnet School.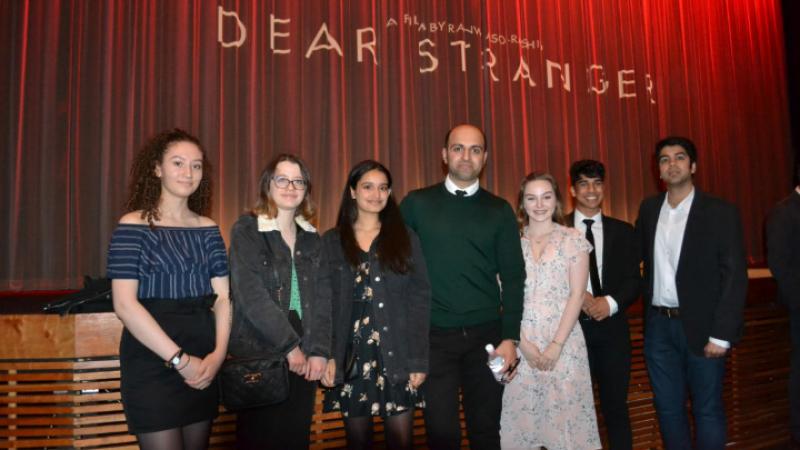 It is the fourth film by AR Films, founded by Ranw-Aso, a graduate from the Biomedical Sciences BSc, and deals with mental health and depression in a teenage girl, played by Layla, a student from the school where he teaches. Several other students were also involved in the film, both on and off-screen.
The premiere was attended by many from the Friern Barnet School, cast and crew and loved ones, including special guest and Q&A host Brian Rose, founder and host of London Real, a global media company which makes award-winning documentaries. He interviewed Ranw, Layla and co-producer Saadan Shaikh, another Westminster Biomedical Sciences graduate, about various aspects of the film and the topic at hand.
Talking about the film, Ranw-Aso Rashid said: "Our films, like Dear Stranger, are intended to be bold and though provoking. They are intended to shed light on important issues that matter to everyone, in particular our youth. The films are intended to push for a unifying force amongst people by telling stories that deal with serious issues such as mental health and other worthwhile stories. AR Films' projects have already benefitted over 100 people professionally and personally since 2017."
Saadan Shaikh added on the night: "This has been a terrific night to showcase the many talents of the young students involved, by premiering at BAFTA we are showing that we are quite ambitious in our approach and show how much we value the work that we create and the people we work with."
AR Films is an indie company that aims to help young people gain film-making experience, having made and released three films and is currently about to release a fourth in July. It works mainly with students from Ranw-Aso's school, Woodhouse College in North London and students from various universities including Westminster's Louis Holder, former president of the Film Society. He has been involved as Director of Photography on a number of AR Films productions along with his own company, Studio Holder.