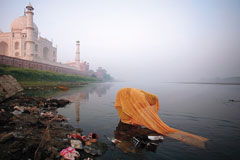 As well as Westminster photography students, the competition – now in its fourth year -  will also be open to those studying photography at the prestigious Aalto School of Art and Design in Helsinki, Finland, as well as the Lette-Verein Berlin, Germany.
Last year's competition, on the theme of 'Sustainability', attracted 700 entries from photography students in Westminster's School of Media, Arts and Design.
Vladimir Kastyl's winning image of the Taj Mahal was featured in the Times Higher Education and Insight, the London Higher magazine. The judging panel included photographers Pat Pope and Liam Bailey and sustainability expert Wayner Visser.
Organiser Kit Oakes said: "This year's competition promises to be the biggest and most successful yet. We are very pleased to be able to invite students from these international centres of photographic education.
"This collaboration will result in exhibitions in Helsinki and Berlin as well as London, providing great exposure for the shortlisted images. We're expecting up to 1,000 images to be submitted and will once again be announcing a panel of prominent judges from the world of photography."
The closing date for entries will be in October and the London exhibition will take place at the University of Westminster's Ambika P3 gallery.