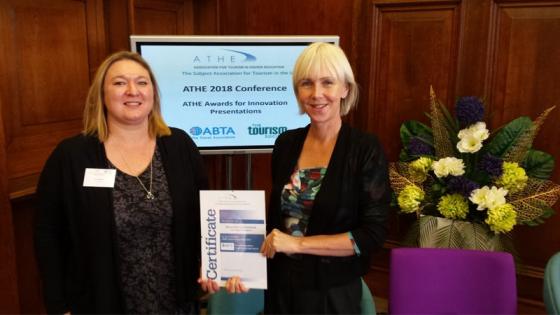 The award, sponsored by the Association of British Travel Agents (ABTA), was presented in recognition for her work on the Tourism Experience module, which was available to second year undergraduate Tourism students and involved a field trip to Indonesia generously funded by the Quintin Hogg Trust.
During the module, students explored the complexities of communication across different cultures and their impact on tourism experience. The field trip engaged staff and students from the University of Westminster and Pancasila University in a project that enabled them to work closely together with the Indonesia Ecotourism Network (Indecon) and a village community in Ngadas near Mount Bromo, East Java.  
Mixed groups of Westminster and Pancasila students stayed in villagers' homes and explored different aspects of community development through eco-tourism. Students had the opportunity to learn about village customs, clothes, food production and the kinship system that regulated activities and behaviours. They were then enabled to use their direct experiences of eco-tourism initiatives in the village to inform discussion, evaluation and recommendations from their visitor perspectives.
The project highlighted some of the complexities and cultural nuances around the diverse understandings of eco-tourism and the differences between the students' expectations and experiences of being tourists in the village.  
Knowledge was co-created through stories, experiences and discussion as students developed convivial social interactions through sharing food, ideas, dances and music from the different cultures. This award is the second one in a row received by the Tourism course at the University of Westminster which follows Dr Andrew Smiths ATHE award last year for leadership in the visitor economy.
Speaking about the award, Dr Nancy Stevenson said: "I am delighted to receive the award which reflects the embodied and practically focussed learning on this module and field trip. Our students were able to make a contribution to the development of tourism services in a rural community in Indonesia."
The Association for Tourism in Higher Education aims at promoting the development and recognition of tourism as a subject of study in the UK at foundation degree, undergraduate, postgraduate and doctoral levels, and encourages high standards in learning, teaching and research.
Find out more about all the Tourism and Events BA Honours courses offered at the University of Westminster.
Read Nancy Stevenson's recent paper on 'Developing Cultural Understanding through Storytelling'.