The VIDAK (Visual Information Design Association of Korea) exhibition, running from 2-14 April, will display the unique visual language of Korean graphic design and expand the design thinking through international exchange.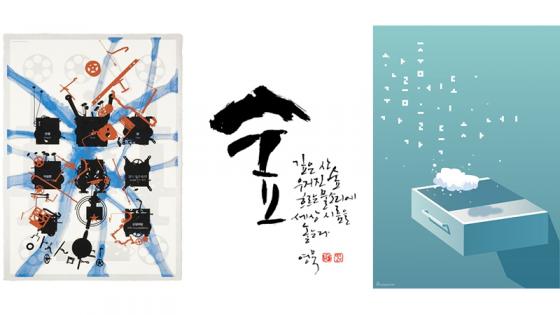 The event, due to take place at the University's London Gallery West at the Harrow Campus, is organised by Hans Reichert, Senior Lecturer on the Graphic Communication Design BA Honours course, in collaboration with Professor Chang Sik Kim, VIDAK Foreign Relationship Vice President.
The exhibition will feature a selection of contemporary judged works by VIDAK members, covering a broad range of Korean designs for typography, advertising, packaging, brand identity, posters, publications, information design, motion graphics and web/interactive media.
Founded in 1994 with 300 leading Korean designers, VIDAK has been driving the domestic design culture for nearly 25 years, contributing to the national industry's competitiveness and international success. VIDAK continuously pioneers a new paradigm of design for a better life and a better society. As a central organisation for enhancing the rights and social values of designers, they seek cooperation with other interested groups and sectors to further their potential and future course. VIDAK is currently made up of 1,000 members who are working in various parts of the industry and educational institutions both in Korea and overseas.
Speaking about the upcoming event, Hans Reichert, said: "The idea of the VIDAK exhibition is to show unique typographic and amazing illustrative imagery representing the rich South Korean visual culture. From analogue calligraphic works, product packaging, posters and print products to highly sophisticated AV presentations. A fantastic opportunity for our visitors from the visual industry sector, our alumni and talented students."  
The exhibition, running until Sunday 14 April, will kick off on Tuesday 2 April at 5pm with an opening lecture delivered by Professor Chang Sik Kim on Korean Visual Design, its history and current design scene. The talk will be followed by a private view with an opening ceremony and exhibition introduction. The evening will be opened by the University of Westminster's Deputy Vice-Chancellor for Employability & Global Engagement Professor Alex Hughes.
Book your free ticket and find out more about the exhibition here.
Cover picture: Designers from left to right: Gum-jun Park, Byungin Kang, Joosung Kim