Involving some of the industry's most successful and respected RIBA Chartered practices and members, it will allow Westminster students to attain a deeper insight into the architectural profession and will further solidify the University's commitment to a reflexive and dynamic relationship between academia and practice.
RIBA will be working with Westminster students and staff and with the local RIBA branch Cities of London and Westminster Society of Architects (CLAWSA) as part of the programme.
'Practice Mentoring' will be open to final year students of the Architecture BA Honours course in the University's Faculty of Architecture and the Built Environment and will run from October 2015 to January 2016. The programme will enable Westminster students to make professional one-to-one contacts in the industry and will provide access to the networking structures necessary to help them secure work placements in early February 2016 as part of their third year studies.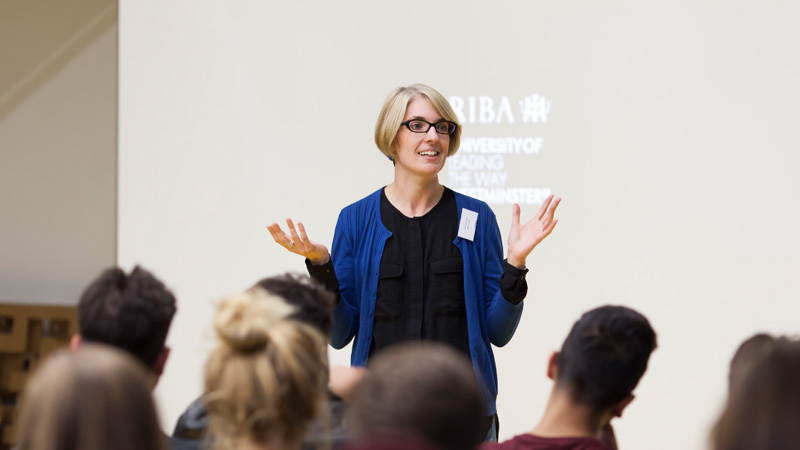 Mentoring will provide Architecture students and their mentors with the chance to discuss the role and work of architects today. Mentees will be given the unique opportunity to join site visits and shadow at specialist team meetings. Depending on the relationships formed, students may also attain advice from their mentors on CV preparation or interview techniques to enhance their employability.
Jane Tankard, Senior Lecturer in the Department of Architecture, said: "This scheme will be an excellent opportunity for the next generation of architects at the University of Westminster to engage in a discourse with the profession at a practical level during their studies. Establishing and strengthening relationships at the very top end of the profession will enable undergraduate students to gain critical skills, connections and confidence within the professional environment."
Tamsie Thomson, Regional Director of RIBA London, said: "The scheme offers access and links for students preparing to graduate and thinking about the world of work. It's also good for our chartered members to make contact with the student community, reflect on their own practice and collaborate as we invest in the future of the profession."
The University of Westminster is one of the UK's leading centres for the study of Architecture and the Built Environment inspiring more than 2,000 students at its teaching base at Marylebone, in central London.