Recent improvements have seen the Department of Psychology revamped and relocated to the University's Cavendish Campus, along with the introduction of a new social space for students. The Marylebone Campus has seen the Department of Architecture build on its excellent, cutting-edge facilities with the redevelopment of new architecture studios following the recent launch of the Fabrication Laboratory Westminster. The Marylebone Library has also been modernised as part of a wider redevelopment at the campus.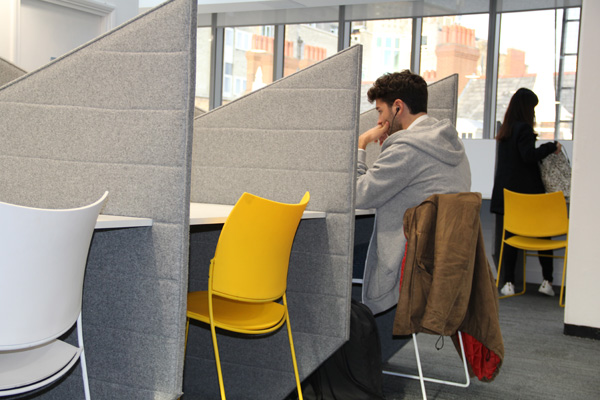 Revamped Marylebone Library
Both the Department of Psychology at Cavendish Campus and the Marylebone Library have been shortlisted for the FX International Interior Design Awards. After a panel of 21 judges selects the winners, the results will be unveiled in a prestigious ceremony at Grosvenor House Hotel, London on 25 November.
Improvements to facilities have been at the heart of the University's programme to create a new and improved learning environment for both students and staff across all campuses.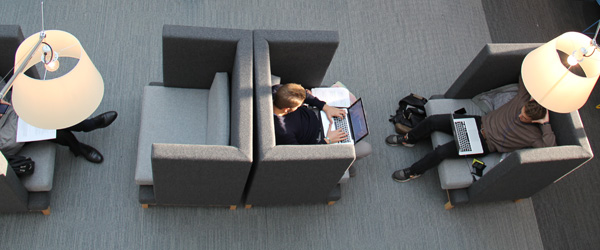 Students study in the new Marylebone Library
Over the summer; a refurbishment initiative was taken to modernise and improve Marylebone Campus, which saw vast changes being made to the second and third floor library areas. Working in collaboration with Rock Townsend Architects, the changes have re-invigorated the library by transforming it into a vibrant and attractive learning space. This includes state-of-the-art ICT facilities, the installation of flexible spaces for a variety of different learning activities, a series of new individual and group study areas with specialist furniture and offices, and work spaces and shelving being re-organised to provide better use of the space.
The redevelopment of the Department of Psychology, another important development at the University, is also shortlisted in the FX Awards. The Department was relocated to Cavendish Campus, which now hosts a vibrant and modern social space, providing a dedicated social learning area that encourages greater interaction and collaboration between students and staff. A new layout for the Department has seen extensive improvements to the interior design, with perimeter offices with glazed partitions around the central area. Additionally, individual offices allow for an appropriate level of privacy between staff members and quiet space, making it ideal for students to work with their tutors.
Director of Estates and Facilities Warren O'Leary said: "The University is delighted that our improvements have been shortlisted for two FX Awards. We are proud to welcome such positive changes and improvements on our campuses, which will enhance and progress the learning experience at the University of Westminster. We will continually look to excel and improve our facilities and learning environment for our students and staff in the near future".