Westminster's Democratic Education Network won second place in the Student Experience category of the Guardian University Awards, which recognise projects and initiatives in Higher Education that have positively impacted on the academic and personal experiences of students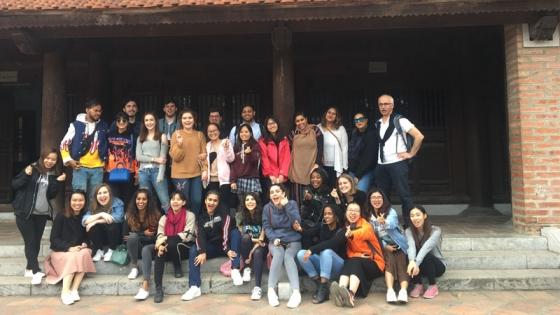 Westminster's Democratic Education Network (DEN) was founded in 2016 by Dr Farhang Morady, Principal Lecturer in International Relations and Development. The Network is generously funded by the Quintin Hogg Trust and links University of Westminster students with local community groups and international university partners by working in projects together.
The purpose of the DEN hub is to help unleash students' creativity and provide them with more ownership of their learning. It is open to all students studying at the College of Liberal Arts and Sciences and now has over 150 members, who meet at least once a week to decide on project ideas and manage their delivery. The idea is to highlight Westminster's diversity while enabling members to develop their confidence by acquiring skills from outside the classroom.
Founded in 2013, the Guardian University Awards seek to acknowledge and reward the institutions that inspire students and transform communities. This year, Westminster was shortlisted in one of 14 categories, with each being judged by experts from within the Guardian and across the UK Higher Education sector.
A few of the DEN's projects have so far included the production of a magazine about its activities and a journal based around its annual conference. The network also runs Inside Westminster, a blog for students to discuss their social and political opinions while drawing on their experiences at university. They have worked with Student Action for Refugees, a national organisation for raising awareness of the issues faced by refugees, and Through Words Heal the World, where students work to tackle hate on the internet through writing, filmmaking and social media campaigns.
A key mission of the DEN is to enhance students' global awareness through study trips to international partner universities and communities in other countries. Students have had the opportunity to visit Turkey, Vietnam, Uzbekistan, India and Georgia, while gaining academic credit through the 'Learning in an International Environment' module, delivered in collaboration with Hanoi University.
Speaking about this success, Dr Farhang Morady said: "The Guardian University Awards are a welcome validation of what students, colleagues and communities can do together. We aim to go beyond the School of Social Sciences and to engage the rich diversity of students across our University."
Find out more about Westminster's Democratic Education Network here.