From 22-24 February, Westminster hosted 'National Student Pride 2019: More Pride, Less Prejudice' at the Marylebone Campus in celebration of the global LGBT+ student community and marking the end of LGBT History Month.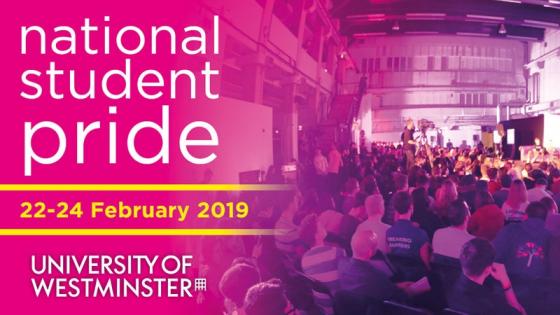 2019 was the 14th National Student Pride, taking the theme of Race and National Identity and how to tackle prejudice from outside and within the LGBT+ community. Student Pride was formed in 2005 at Oxford Brookes University in response to challenges imposed by the Christian Union, establishing a debate on the relationship between homosexuality and religion. Student Pride proudly holds the belief that faith and sexuality can sit side by side to fight prejudice and discrimination as one.
The festival collaborated with Attitude Magazine to combat the issue of ongoing prejudice within the LGBT+ community and discuss what it means to be an activist with the 50 Years of Stonewall Panel. A number of notable media figures attended, including Nichi Hodgson from Sky News, Moud Gouba from UK Black Pride and BBC News LGBT+ Correspondent Ben Hunte. The event was also platinum-sponsored by EY for the eighth consecutive year, with Law Firm Clifford Chance as gold sponsor and ASOS, Chappy, Enterprise, Rent-a-car, Lloyds Banking Group, Thompson Reuters and Santander as silver sponsors.
The weekend offered a range of activities, including a panel talk on student sex work in the LGBT community and a discussion forum concerning the + in LGBT+ and how erasure of queer individuals can be prevented. This discussion included Intersex activist Anick, who appeared in the BBC documentary 'The Intersex Diaries' last year. The festival also hosted the largest LGBT student Careers Fair in the UK, with big corporate names such as Royal Air Force, Switchboard, Fujitsu and Stonewall attending. Visitors were further able to enjoy a dance competition entitled 'Strictly Come Voguing', with Glyn Fussell from Sink the Pink and Jamie Campbell, the inspiration behind the hit musical Everybody's Talking About Jamie, on the judging panel.
Sharing his thoughts on the weekend, Anick said: "National Student Pride was in its fifth year at Westminster and this event just keeps on growing. It was fantastic to see over 85 employers at the Careers Fair and invite students from all over the UK to our campus. The team truly outdid themselves to create a progressive, inclusive and engaging event!"
The festival was attended by more than 1700 students from 170 universities around the world. Ending the weekend on a high and memorable note, National Student Pride took over the world-renowned G-A-Y Heaven Saturday Night, followed by a queer bus tour of London hosted by some of the city's best drag talent.