The event, hosted at the Regent Street campus on Thursday 9 May, consisted of a conversation with renowned BBC journalist Mishal Husain.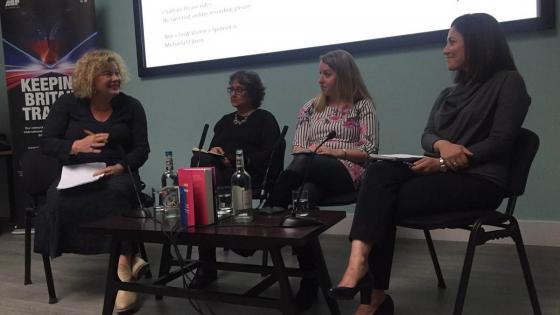 The opening address was delivered by Michaela O'Brien, Head of the School of Media and Communication and was chaired by Eleanor Mills, Chair of Women in Journalism, Editorial Director of the Sunday Times and Editor of the Sunday Times Magazine. 
The conversation panel was co-hosted by Women in Journalism committee members Yasmin Alibhai-Brown, the first regular columnist of colour on a national newspaper in the UK and Donna Ferguson, an award-winning freelance journalist who mainly writes for The Guardian. It was followed by informal networking drinks where Mishal was selling signed copies of her book. 
Mishal Husain presents BBC Radio 4's Today programme and the BBC1 News at Ten on Sundays. She has reported from around the world and has made critically acclaimed documentaries in a career spanning over 20 years. 
Commenting on the event, Eleanor Mills said: "It's so great to be at the University of Westminster where we had Mishal Husain this evening. We talked a lot about diversity and how it's been broadened out in media, and how the media works best when it is a true mirror that reflects society, not a distorting lens."
Founded 25 years ago by pioneering Eve Pollard, Women in Journalism is the UK's leading network for women working in print, broadcast and online media. It holds a variety of events with a range of high profile speakers that include discussions and seminars, as well as provide support, mentoring and sponsorship for female journalists.