Organised by the Safety, Health and Wellbeing team, the Wellbeing Day 2019 enabled staff and students to learn more about wellbeing as part of a healthy lifestyle. The event took place on Thursday 7 February at the Learning Platform in Marylebone Campus, in conjunction with the national campaign 'Time to Talk Day 2019'.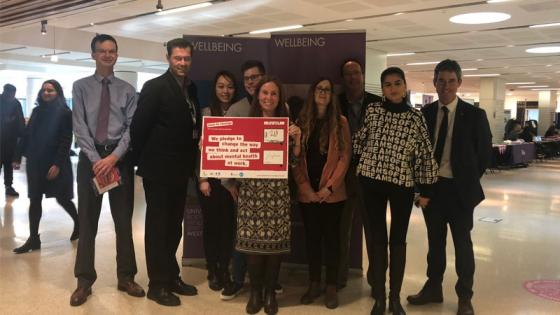 The day enabled attendees to engage in a series of activities promoting wellbeing and encouraging communication on mental health. Participants had the opportunity to take part in different workshops such as 'Know your heart age', 'Eat well and be active' and 'Think well', which were co-organised with the British Heart Foundation and with the assistance of four health practitioners. Attendees also had the chance to make their own health drinks on a smoothie bike and try out new wholesome foods from The Farmacy, intended to promote living a healthier life in the long-term.

Representatives from Mind UK were also present offering tips and providing attendees with more information on Mind's support and activities such as the ongoing five steps campaign exploring five ways that can help develop wellbeing: 'Connect, Be active, Take notice, Learn and Give'.

Different teams from the University including colleagues from Regent Street Gym, the Sustainability and the Organisational Development departments were also on site to offer services and advice to participants who wished to find out more on how to enhance their wellbeing.

The day was marked by the University's Vice-Chancellor Dr Peter Bonfield signing the Time to change Employer Pledge on behalf of all staff and students, aimed at eliminating any stigma, prejudice and discrimination against any employees who struggle with mental illness or other health issues. This action demonstrates a commitment to changing how we think and act about mental health in the workplace.

Speaking at the event, Dr Peter Bonfield, said: "We want to address mental health positively and effectively in our University. Our goal is to eliminate bad practices around it. We will need to work together to ensure that we all 'walk the talk' on this commitment.
"Signing a pledge is a good start, inculcating throughout all our organisation and embedding this philosophy as a core part of our culture will require work. We will do this together, contributing further to being 'compassionate' as one of our core values." 

Anita Bellinger, Safety, Health and Wellbeing Coordinator, also said about the event: "It was great to see colleagues and students engaging in the activities and having conversations with our stallholders. Events such as these are so important, as they raise awareness on wellbeing issues and provide not only an opportunity for discussion, but showcase what assistance is available to the University Community."