On Tuesday 26 February, the Department of Psychology hosted Psych4Schools for the third consecutive year, attended by sixth form school students to learn more about the field of psychology and what it has to offer as a career path.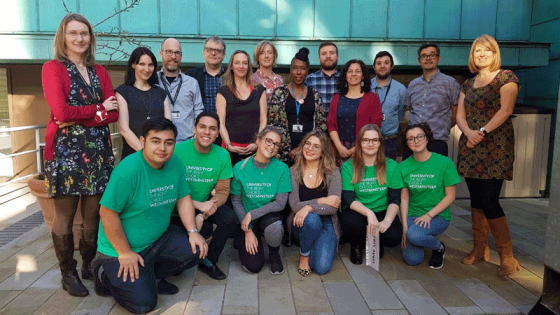 The event was held at the University's Cavendish Campus and welcomed a total of 150 students from Southwark High School, Beaconsfield High School, Villiers High School, Hornsey School for Girls and Oaks Park High School.
The event was coordinated by Deborah Husbands, Senior Lecturer in Psychology, and included a series of short lectures given by Dr Haiko Ballieux, Dr Samuel Evans, Dr Tina Cartwright and Professor Catherine Loveday. Dr Ballieux presented a lecture entitled: 'Can you trick your brain, or does your brain trick you?' focusing on how the brain responds differently to sound and touch depending on what is being seen. Students were able to experience The McGurk Effect and the double flash illusion, as well as multisensory integration.
Dr Evans presented on cochlear implants, discussing the complex processes of the inner ear and how implants work for those with profound and severe levels of hearing loss. He also spoke about auditory and visual hallucinations in relation to schizophrenia and showed students real-time MRI demonstrations of the human voice system. Dr Cartwright spoke about health psychology and mental health in young people, giving examples of how to improve one's wellbeing such as increased physical exercise and investing in personal relationships. Students were also able to attend practical workshops on various psychological areas including yoga for wellbeing, psychology testing, different types of cognition and The Human Library Project.
Sharing her thought on the event, Deborah Husbands said: "This event was a brilliant example of collaborative teamwork with colleagues from Psychology, Libraries, Research Development, Outreach and our Student Ambassadors. The event was also supported by the British Psychological Society. The team was complimented by the teachers and students on every aspect of the day. We look forward to working on future outreach events and creating more opportunities for impact."
During the second half of the event, Professor Catherine Loveday gave a lecture on the teenage brain, memory and cognition and the stages of adolescence. Attendees were also able to hear a perspective from a final year undergraduate Psychology student on what it is like to study this subject at University, and have their questions answered in a panel Q&A discussion.
Laura Richardson, Psychology teacher at Oaks Park High School, said: "The students really enjoyed the variety of the day, and said they got a very useful insight into the types of psychology that exist and the ways that they can be applied to the real world. We all really appreciated the content, time and effort, plus the great delivery. Your colleagues and volunteers were delightful!"
Find out more about the Department of Psychology at the University of Westminster.