The 15-week Challenge was run in partnership with the University of Westminster and the Engineering Development Trust (EDT).
The 'Stations of the Future' challenge required students to pick a railway station, research its history and current operations, and think of ways to improve the station and customer experience. The purpose of the challenge was to promote engineering and encourage school pupils to pursue further education in STEM subjects (science, technology, engineering and mathematics).
The nine teams of students taking part in the 'Stations for the Future' challenge were given the opportunity to showcase the projects which they have been working on as part of their school curriculum to industry professionals.
The assessment day was attended by students from secondary schools such as St Marylebone, Brentside High, Harris Boys, Central Foundation, St Martin in the Fields and City of London Academy. 
Following the Go4SET Launch, which took place at the University of Westminster's Marylebone campus on 9 January 2015, the students had been working on their own individual Go4SET challenge proposals with guidance from two business mentors. After spending the day presenting their final pieces of work to assessors, the event concluded with a graduation and awards ceremony in which the year eight students of the 'Marylebone Gold Ties' group from St Marylebone School were declared the overall winners.
"Students have learnt about the enormous diversity of the world of engineering. They've fantastically demonstrated today their creative ability," said Professor Dik Morling, Head of the Department of Engineering at the University of Westminster.
Other prizes given out to participating students included the 'Most Innovative' prize won by the Central Foundation West Ham Team, and the 'Student Choice' prize won by the 'STEMINISTS' team from St Martin in the Fields Secondary School.
In recognition of the importance of promoting STEM subjects, the University of Westminster is sponsoring a new University Technical College (UTC), named Sir Simon Milton Westminster, in the heart of London's West End, which will open its doors for 14-18 year olds in 2017. An unrivalled Employer Alliance, consisting of Network Rail (lead employer partner), Transport for London, BT Fleet, Land Securities, Crossrail, Alstom and Sir Robert McAlpine, supports this development through contributions to curriculum design in transport engineering and construction engineering and management. In 2017, the UTC will admit 225 pupils from across London, with 75 joining Year 10 and 150 joining Year 12.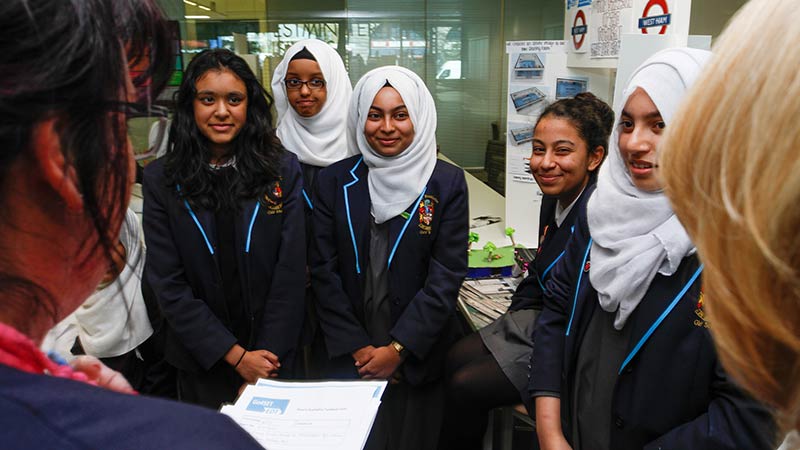 The Most Innovative prize went to the Central Foundation West Ham Team
The STEMINISTS team from St Martin in the Fields Secondary School won the Student Choice prize.
More images from the day
,