Three students from the University of Westminster MA Fashion Business Management course scooped accolades for their savvy global marketing strategies created for leading UK fashion brands, Tatty Devine, Okun and Peaks of London.
Hui Kristensen, Marie-Alice Lavergne and Vali Liu are the three UKFT Live Project winners and have each secured a work placement with the brand they successfully pitched to. They were presented with their prestigious awards by MP Damian Collins at an award ceremony yesterday at UKFT's London head office.
The project, which is part UKFT's commitment to working with young talent in the fashion industry and lobbying government for better skills and training, challenged students to create a global marketing campaign enabling the fashion labels to successfully break into new global markets. UKFT has been advising and aiding thousands of British fashion and textile businesses on how to take their products to an international audience for over 30 years.
With each of the brands having a distinct and unique proposition to take abroad, students relished the chance to work with diverse businesses spanning the breadth of the fashion industry; Tatty Devine, the successful makers of quirky jewellery and accessories, Okun, designers of vibrant African-inspired luxury beachwear and Peaks of London, the niche label producing beautiful tops and dresses for style-conscious women who are breast-feeding.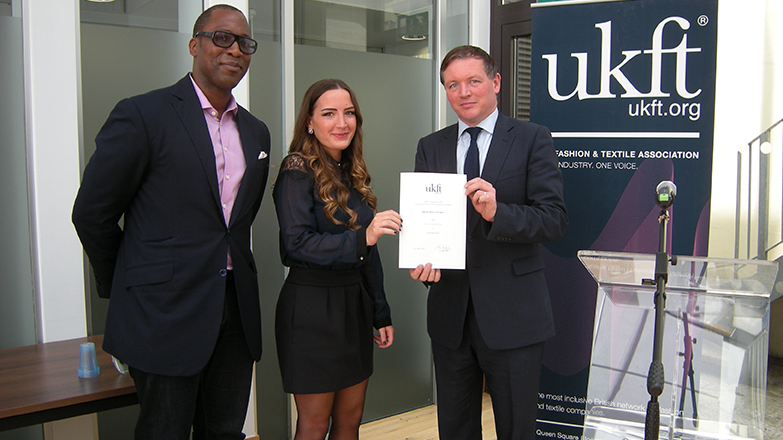 Bola Marquis, Founder & Creative Director of OKUN with Marie-Alice Lavergne and Damian Collins MP
With international expansion so high on the agenda for many UK brands, the project  called on students to truly understand the opportunities and challenges presented by specific global markets. Learning from the successes and failures of other brands with global ambitions, students had to demonstrate a thorough knowledge of the fashion business including manufacturing, distribution and logistical infrastructure in their chosen market.
Drawing on their many skills, students were asked to present their strategy to the designers and UKFT marketing and export teams, who had the difficult task of whittling down the prospective shortlist to just three.
The Winners
The three winning students impressed the brands with their in-depth knowledge, vision and creativity:
Brand: Tatty Devine
Winner: Vali Liu, University of Westminster
Market: Australia
Vali impressed with a great personality and impressive creativity in her ideas. She had a firm grasp on social media and ecommerce and also aligned the brand well with competitors in her chosen market, Australia.
Brand: Okun
Winner: Marie-Alice Lavergne, University of Westminster
Market: South of France
Marie really understood the brand and did a great presentation to take the company to the South of France. Her understanding of the brand and fantastic presenting skills made her stand out from the other entries. 
Brand: Peaks of London
Winner: Hui Kristensen, University of Westminster
Market: Denmark
Hui impressed with her intimate understanding of the Danish market and had some great creative marketing campaigns that would really take hold in the local market there. As well as being creatively sound her presentation showed she had a good head for numbers and strategy.

Jules McKeen, co-founder of Peaks of London with Hui Kristensen and Damian Collins MP
Quotes:
UKFT board member Belinda Dickson OBE and founder of cashmere specialists Belinda Robertson said: "We are truly thrilled by the standard of the work presented by students as part of the UKFT Live project. Supporting fashion's young talent with initiatives like this will ensure they go on to lead some of the industry's future success stories, both here in the UK and internationally."
Virginia Grose, course leader and principal lecturer of the University of Westminster MA Fashion Business Management, said: "To see the University of Westminster being chosen for the placements at the UKFT awards is a true testament to the hard-work and dedication of both our students and lecturers.
"We are grateful to UKFT for its ongoing support by facilitating this project for our MA Fashion Business students and providing access and opportunities with some of the biggest names in our industry. The students found the Live Project extremely beneficial and putting a 'real' international marketing strategy together has been a unique and door opening opportunity for them."
Damian Collins, MP for Folkestone & Hythe and Chairman of the All Party Parliamentary Group for Fashion and Textiles said: "UKFT and University of Westminster have created an outstanding platform for fashion's up and coming with UKFT's Live Project. By giving students the opportunity to showcase their talent in front of major brands, they are setting them up for a solid future in the industry."