The University of Westminster show is a prized 'hot ticket', having an established reputation for delivering quality, diversity, excellence and exciting showmanship. Among this years' emerging talents presenting their debut collections are Niall Cottrell, Caroline Day, Roberta Einer, Milena Konakchieva, Chloe McGeehan and Robert Newman.
This year's graduates have already gained invaluable experience working with internationally renowned design houses including Balmain, Burberry Prorsum, Calvin Klein, Loewe, Alexander McQueen, Gareth Pugh, Alexander Wang and Vivienne Westwood, to name but a few.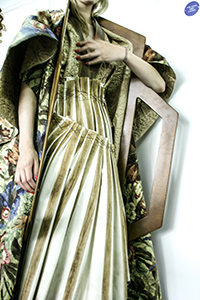 The University of Westminster Fashion Design degree course is renowned for producing individually distinctive, creative designers of the highest calibre, who work across all levels of the international fashion industry. Last year's graduates are now employed by prestigious international companies such as Burberry Prorsum, JW Anderson, Dunhill, Jacquemus and Paul Smith. Alumna Mary Benson debuted at London Fashion Week in February as part of Fashion East, following in the footsteps of previous University of Westminster alumni Claire Barrow, Ashley Williams and Liam Hodges.
The University has exceptional links with the fashion industry, with a glittering array of successful alumni including Christopher Bailey, Chief Creative Officer of Burberry, Stuart Vevers of Coach, Katie Hillier, Creative Director of Marc by Marc Jacobs, and Michael Herz, Artistic Director of DVF.
Andrew Groves, Course Director of the University of Westminster's Fashion Design BA Honours, said "This year's graduates have shown exceptional creativity and imagination, which has been translated into their final runway collections. The time our students have spent with international design houses during the course has been a truly enriching and rewarding experience for them which is reflected in their designs. We are very much looking forward to this year's graduate show on 20 May."
Harriet Walker, Deputy Fashion Editor of The Times and Todd Lynn, Fashion Designer and owner of his own fashion label, were among the judges who selected the collections to be featured in this year's Graduate Fashion Show.
Harriet Walker said: "The collections were very accomplished, there were a lot of skills on show and a lot of the collections were unique. It also showed that students have been in the industry as well and they saw what was going on there.
"It is always difficult to decide because there is such a spread of talent and so many ideas. There is a lot going on. Westminster is always definitely in the top range of fashion colleges in the country. All of the collections stand up to scrutiny and I think they all look like the sort of collections that should be coming out of really good universities such as Westminster."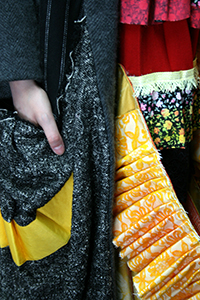 Todd Lynn said: "It is always interesting to see what the students are up to and what they are looking at collectively. Westminster has a reputation for being quite creative and you can see that in the works. Everything seemed to be well put together and well executed and it seems like a strong year to me.
"It is a selection of pushing things forward which is what fashion should do – it shouldn't necessarily be about the commercial side of things, but the interesting things is there are lots of collections here that could be commercialised as well."
The full list of graduates who will be showcasing their designs at the University of Westminster Graduate Fashion show this year: Samuel Best, Katherine Brittain, Niall Cottrell, Caroline Day, Roberta Einer, Milena Konakchieva, Lucy James, Chloe McDonald, Chloe McGeehan, Daniel McKinley, Diana Misnei, Georgia Mottershead, Danielle Nevin, Robert Newman, Robyn Priestley, Charlotte Scott and Matt Witcombem.
The University of Westminster is also hosting a fashion portfolio day at a restaurant in Soho, London on 27 May 2015. The showcase provides a great opportunity for the fashion industry to view first-hand the work of tomorrow's fashion designers. On display will be all of this year's graduate portfolios which cover all areas of design including menswear, womenswear, sportswear and accessories, as well as examples of final outfits from the students' graduate collections.
For further information on the University of Westminster Graduate Fashion show and portfolio day, please visit the Westminster Fashion site.
Images -
Top right: Designer: Milena Konakchieva copyright © University of Westminster
Bottom right: Designer: Caroline Day copyright © University of Westminster