Niall Cottrell, Caroline Day, Roberta Einer, Milena Konakchieva, Chloe McGeehan and Robert Newman were among the graduates who presented their debut collections in front of a number of high-profile people from the industry, with guests including designers and alumni including Liam Hodges, Ashley Williams and Mary Benson.
This year's graduates have already gained extensive, invaluable experience working with internationally renowned design houses including Balmain, Burberry Prorsum, Calvin Klein, Loewe, Alexander McQueen, Gareth Pugh, Alexander Wang and Vivienne Westwood to name but a few.
The University of Westminster's show is a prized 'hot ticket', having an established reputation for delivering quality, diversity, excellence and exciting showmanship. The University's Fashion Design degree course is renowned for continually producing individually distinctive, creative designers of the highest calibre, who work across all levels of the international fashion industry. Recent success includes last year's graduates who are now employed by prestigious international companies such as Burberry Prorsum, J.W. Anderson, Dunhill, Jacquemus and Paul Smith. Last year's graduate Mary Benson debuted at London Fashion Week in February this year as part of Fashion East, following in the footsteps of previous alumni Claire Barrow, Ashley Williams and Liam Hodges.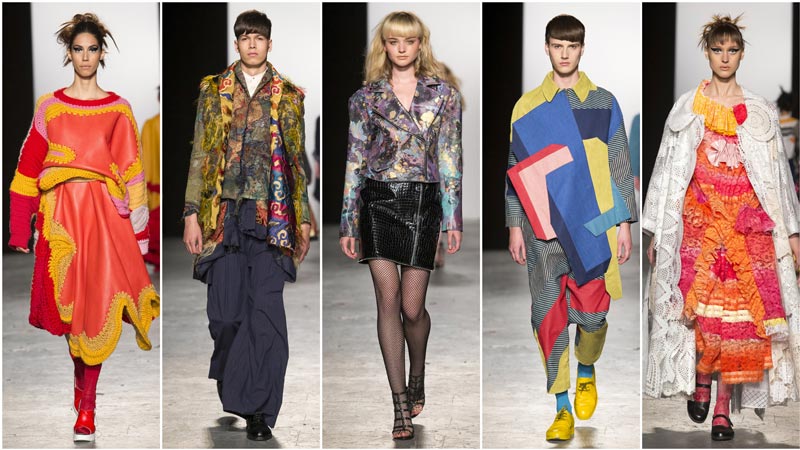 Designers from left to right: Kate Brittain, Samuel Best, Diana Mysnei, Charlotte Scott, Caroline Day. Copyright: Simon Armstrong
The University has exceptional links with the fashion industry, with a glittering array of successful alumni including Christopher Bailey, Chief Creative Officer of Burberry; Stuart Vevers of Coach, Katie Hillier, Creative Director of Marc by Marc Jacobs; and Michael Herz, Artistic Director of DVF.
Andrew Groves, Course Director of the University of Westminster's Fashion Design BA Honours, said: "The graduates of 2015 have produced a sensational show, a real showcase of bright design talent combined with quality craftsmanship. At Westminster we have a proud tradition of combining inspirational creative teaching with professional skills training. Using our first-class links with the global fashion industry and the biggest names in the business, we give our students unrivalled opportunities to engage with industry during their course and build their own links to enable future career success. I look forward to following the careers of this year's graduates as they develop into the future."
Visit mailbigfile.com to download images of all the collections from the runway show in a zip file (750MB). All images are copyright Simon Armstrong.