The School of Life Sciences at the University of Westminster have generously donated 40 second-hand microscopes to Kendrick School, a top selective girls' school in Reading, to enable them to expand their A-Level Biology class and meet syllabus requirements.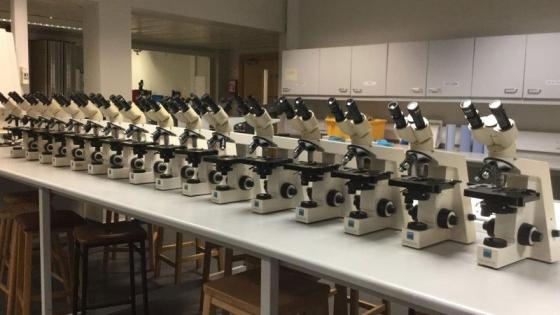 With some of Westminster's microscopes getting old and no longer having the capabilities needed for undergraduate work, Kim Storey, a Technical Team Leader at the College of Liberal Arts and Sciences, looked into ways to donate the microscopes to other schools or companies that would benefit from their use. With the help of Westminster's new microscope engineer, Ian Barber, and microscope manufacturing company Micropix, a solution was found. Micropix applied for an EU waste carrier license which allowed the microscopes to be assigned to them as waste, and following this, Ian was able to completely refurbish the microscopes and enable them to be passed on for a good cause. 
The first batch of microscopes were sent to Africa in August 2018 to create a mobile lab, while the second batch was sent to Westminster UTC in September 2018 to help with their A-Level students. The final batch were this week sent to Kendrick School, a top selective girls' grammar school in Reading. The new A-Level Biology curriculum asks for micrometre measurements that require more advanced microscopes, while Kendrick School has taken in more A-Level Biology students than before, leaving them struggling to provide the equipment needed. The timing could not have been better when Kim emailed the Head Teacher to offer Westminster's old microscopes.
With the supply of these microscopes, Kendrick A-Level Biology students will be able to observe animal and plant cells at greater magnification and take specific measurements using eyepiece graticules on a micrometre scale. The microscopes have a long lifespan, having lasted 40 years at the University of Westminster, and should last another 20 years or more with careful maintenance and storage.
Speaking about this successful donation, Kim Storey said: "I am delighted that we could give these waste microscopes a new life and a new home where they can continue to inspire young minds, and our new generation of potential students."