On Tuesday 2 April, Westminster hosted a grand opening event to mark the start of the VIDAK (Visual Information Design Association of Korea) exhibition, running until 15 April. The exhibition displays the unique visual language of Korean graphic design and aims to expand the design thinking through international exchange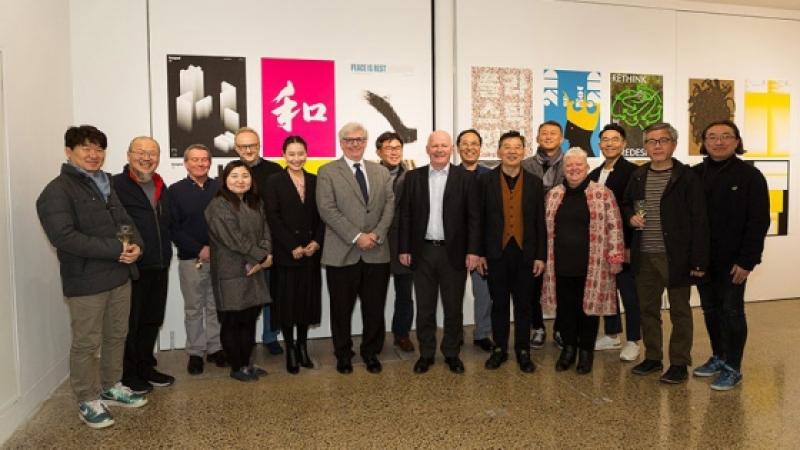 The event opened with a formal 'ribbon-cutting' ceremony, officially welcoming Korean delegates and VIPs in to the University of Westminster's Harrow Campus exhibition spaces. Organised by Hans Reichert, Senior Lecturer for the Graphic Communication Design BA Honours course, and Professor Chang Sik Kim, VIDAK Foreign Relationship Vice President, the exhibition features a selection of contemporary work produced by VIDAK members.
VIDAK was founded in 1994 and is now a growing community of 300 designers and 1,000 members, driving the domestic design culture for 25 years. The organisation works to enhance the rights and social values of graphic designers, seeking cooperation with other interested groups to further their potential.
Prior to the opening ceremony, Professor Chang Sik Kim delivered an opening lecture entitled: 'Korean Visual Design, its history and current design scene', which was followed by a private viewing. A formal welcome was given by the University's Deputy Vice-Chancellor for Global Engagement Professor Alexandra Hughes, as well as Professor Stephen Brookhouse who acknowledged all the exhibition participants' hard work with a note of appreciation. Ingi Lee, VIDAK President, further congratulated all those involved and thanked the University for the invitation to exhibit this diverse selection of work.
Image above from left to right:  Sungh Wan Jang; Professor Stephen Brookhouse, Associate Head of College (External), DCDI; Kyung Kyun Kim; Professor Alexandra Hughes, Deputy Vice-Chancellor, Employability & Global Engagement; Ingi Lee, VIDAK President; Professor Jonathan Stockdale, Head of College, DCDI; Colin Bailey, Course Leader, Graphic Communication Design, DCDI; Professor Hoeun Ahn; Hans Dieter Reichert, Senior Lecturer, Graphic Communication Design, DCDI, co-curator and co-organiser of the exhibition; Professor Chang Sik Kim, VIDAK Foreign Relationship Vice President, co-curator and co-organiser of the exhibition.
The exhibition is spread across two large galleries (London Gallery West and the Project Space) and displays over 180 examples of Korean visual designs including posters, typography, advertising, AV projections and motion graphics. Following the two-week show, the VIDAK organisation intend to donate some works to the School of Media and Communication at Harrow Campus, with the exhibits being kept in the rooms of the Graphic Communication Design course.
Sharing his thoughts on this successful exhibition, Hans Reichert said: "Organising and curating this exhibition was a wonderful partnership experience between the members of VIDAK and members of staff at the University of Westminster and I do thank our Korean colleagues for their excellent visual artworks."
The VIDAK exhibition is open daily between 9am and 5pm, including weekends, until Monday 15 April and is of free admission to the public.