The University's Students' Union, in a joint project with the University, hosted an online session titled 'Look after your mate' to help student support themselves and others with mental health training.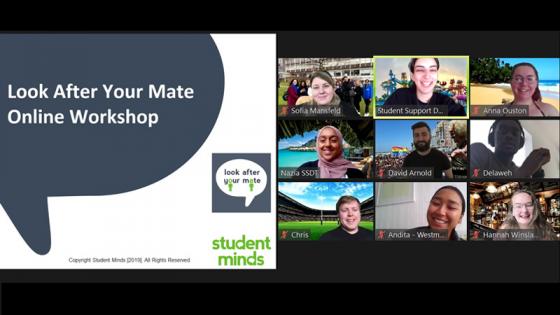 To promote Mental Health Awareness Week, which ran from 18-24 May 2020, the University and its Students' Union relaunched their 'Look After Your Mate' sessions. They collaborated with Student Minds to adapt the training for online delivery, which was an interactive two-hour workshop with capacity for 10 students. 
The training covered practical tips on how to support a friend you may be worried about, such as spotting warning signs, what to say to them, signposting them to the right services and your own self-care. 
The session equipped students with the knowledge and confidence to effectively support mental health and wellbeing, as well as gaining desirable skills for the future, such as communication, listening and motivation, all of which are effective on a CV or resume.
Student Minds is the UK's student mental health charity who empower students and members of the university community to develop the knowledge, confidence, and skills to look after their mental health, support others and create change. They train students and staff across the UK to deliver student-led peer support interventions as well as research-driven workshops and campaigns.
Mariia Kogan, final year student on the Business Management (Marketing) BA Honours course, said about the workshop: "I'm so happy to have taken part in the first online Look After Your Mate Workshop. I was shocked by the statistics that 1 in 4 people experience mental health issues throughout the year, and I hope that initiatives like this one can help to fight the stigma around mental health and assist those who experience difficulties in getting the support they need." 
Haajarah Ahmed, final year student on the Biochemistry BSc Honours course, said: "This session has given me the knowledge and confidence to effectively support my own and my peers' mental health and wellbeing. I would definitely recommend students to sign up to this extremely useful workshop."
Learn more about the University of Westminster Students' Union on their website.