On Wednesday 20 March, the University of Westminster teamed up with Brunel University London to invite 20 students, from both institutes, on an exciting entrepreneurial journey to visit some of London's vibrant and must-see innovation hubs.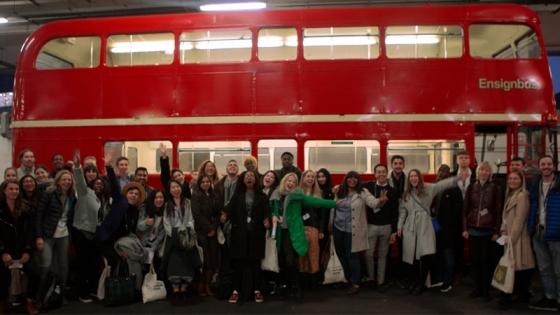 The London Venture Crawl (LVC), which celebrates student entrepreneurship, offers a unique platform that brings together creatives and business experts in the startup community. All of which enables knowledge exchange through networking opportunities and experiential learning.
Over the course of the 12-hour expedition, students were given the chance to connect to real-world businesses, be inspired by the UK's growing entrepreneurial ecosystem, and gain skills in self-confidence, creative-thinking and leadership.
This year, 20 shortlisted entrants from the Westminster Big Idea Competition were selected to embark on this unforgettable experience via London's iconic Routemaster bus.
The day kicked off with a networking breakfast served at the University of Westminster's Marylebone Campus, before touring across the capital to visit various innovation centres including Wayra, followed by Makerversity, Bloomberg, Creative Entrepreneurs, and WeWork.
Students were able to hear from a unique mix of inspirational speakers and were given exclusive access to behind-the-scene tours.
The journey ended with a celebration event at East London's technology co-working space, Plexal, where a student from each university competed in the 2019 Venture Crawl Pitching Competition.
Westminster alumna, Taylor Semelsberger, was crowned this year's winner after successfully pitching her business idea to a panel of industry experts.
Shiela Birungi, Entrepreneurship Programme Manager at University of Westminster's Creative Enterprise Centre, said: "The best way to learn about entrepreneurship and innovative thinking is to experience it first-hand; to meet the people who are creating new jobs and coming up with creative ways to meet society's challenges.
"We have the world's top innovators right on our doorstep and we want students to take full advantage of that. Partnering allows us to build on our shared networks and have diverse conversations. The universities involved all have different specialisms but we share common goals about enterprise education. We're putting students at the heart of the action."
Successfully piloted in 2017 by King's College London and expanded in 2018 to nine London universities, the 2019 Venture Crawl is a unique partnership between King's College London, UCL, London South Bank University, Brunel University London, The University of Westminster, Loughborough University London, Birkbeck University of London, University of East London, London College of Fashion, The University of Greenwich, City, University of London, Regent's University London and The University of Manchester.
Find out more about the Creative Enterprise Centre.