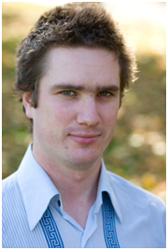 David used data from Transport for London's Automatic Vehicle Location system, iBus, which became fully operational early in 2009. iBus uses GPS, odometers and gyroscopes coupled with mapping software to record the location of every London bus every second. David developed a new metric to describe bunching and used this to measure bunching on 30 London bus routes.
A physics graduate who went on to graduate in singing from the Guildhall School of Music, David developed a career as a singer before deciding to become a transport planner, and to study for a Masters at Westminster University. Having completed his Masters, David was given a placement by TfL to improve the accuracy of the Countdown algorithm, before joining Steer Davies Gleave as an Assistant Consultant.
The Voorhees-Large Prize, which is worth £500, is awarded annually by the Brian Large Bursary Fund for the best dissertation submitted by a UK resident studying for a Transport Masters. It is awarded in memory of Al Voorhees and Brian Large. Al Voorhees was one of the fathers of transport planning and modelling and founder of MVA Consultancy which provides advice on transport and other policy areas to government, agencies and developers among others.  Brian Large was a Director of MVA Consultancy.
This is the second consecutive year that the Voorhees-Large Prize has been awarded to a graduate of to the University of Westminster's Masters in Transport Planning and Management. Martin Gilmour won the award for 2010 for his dissertation Passenger Transport Surveys and Scale Effects.
Brian Large Trustee Martin Richards said: "The Brian Large Trustees are very pleased to be able to recognise the quality of research work undertaken as part of transport Masters studies, as is illustrated by David's dissertation.  We are sure that Brian would be delighted that we will be presenting David with his prize at the 2012 Transport Practitioners Meeting, the successor to the PTRC SAMs with which Brian was deeply involved.  The Voorhees-Large prize complements the Brian Large bursaries the Fund awards to UK transport Masters students: this year, four students studying full time for a transport Masters are being helped."
For further information, please contact:
Sarah Evans-Toyne, Lianne Robinson or Chiara Barreca
Broadgate Mainland
E: [email protected]
T: +44(0) 20 7726 6111