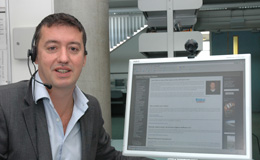 Russell's teachertrainingvideos.com website was picked out by judges at the prestigious ELTons 2010 awards, which are organised by the British Council.
He was the pick of the nominees in the UK Award for Innovation category. Judges commended his website for its commitment to open access, "taking teachers step by step through a whole array of ICT tools, including blogs, wikis, podcasts and much more".
Said Russell: "I'm delighted to win this award as the British Council awards are recognised the world over.
"My motivation has always been to help teachers at all levels make the most of the latest in ICT tools to enable them to make their teaching as interactive as possible."
TTV.com has an average of around 10,000 unique users a month, making it one of the biggest teacher training sites on the internet.
Russell, a principal lecturer within the University's School of Electronics and Computer Science, has won a number of different awards in recent years, including the Times Higher Education Award for Outstanding Initiatives in Information and Communications Technology in 2008.
For more details of the award follow the link: www.britishcouncil.org/learning-eltons-2010-winners-4.htm