Shaheen Mamun, a graduate of the LLB (Solicitors Exempting) course, has been shortlisted as Lawyer of the Year at the Modern Law Awards.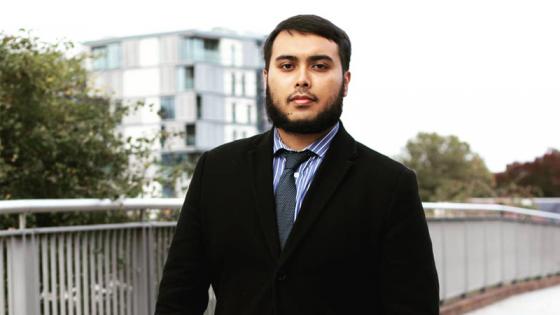 The award for Lawyer of the Year is presented to someone who has made a major contribution to the success of their practice in the last year, evidenced by strong management and leadership. Their success is also supported by improved financial performance and market profile. 
Mamun is currently a Director and the Head of Finance and Administration at Black Antelope Law and specialises in civil, commercial, criminal and public law litigation and disputes. 
He has previously won awards such as One to Watch at the British Muslim Awards 2018, Malcolm X Young Person's Award for Excellence by the Muslim News Award 2017, Highly Commended for the 'BSN Rising Star' at the UK Legal Diversity Awards 2016 and many more. While at the University Mamun won the Student Achievement Award and a prize sum of £1000 for academic excellence and progression. 
The Eclipse Proclaim Modern Law Awards celebrate and identify success in entrepreneurship, market development, business management and best practice in the modern legal services arena.
The awards will be presented on 5 February at the Victoria Warehouse in Manchester. They will be hosted by well-known impressionist Jon Culshaw. 
Mamun said about the achievement: "I am delighted to have been shortlisted as a finalist for Lawyer of the Year by the Modern Law Awards 2020. I feel proud to have demonstrated a positive progression in my career from a Rising Star to where I am now and am always grateful that my journey is always monitored by my alma mater, University of Westminster. It is one of the reasons why I am always keen to a be a mentor with them and devote my time where I can to assist upcoming Law students in entering the profession. 
"Mentoring at the University of Westminster is a very simple process through the mentoring webpage and I strongly recommend this to any professional as the help and advice you may provide is invaluable; I am also an ex-mentee and have benefited from having entered the Mentoring Scheme when I was a Law student."