Two Westminster students were selected for an exclusive leadership training event and enjoyed the screening of the Champions League final game as part of Westminster's partnership with Santander Universities UK.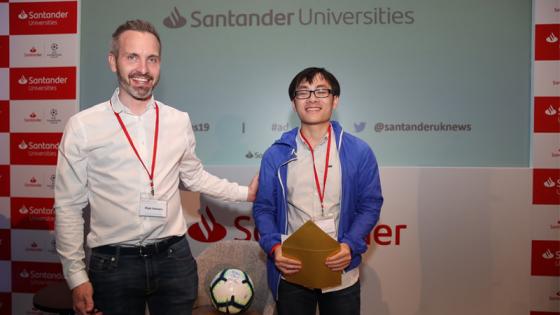 On Saturday 1 June, Abi Azeez and Trung Le had the chance to attend a Leadership Masterclass at Tottenham Hotspur's new stadium, led by renowned sports psychologist and ex-England cricketer Jeremy Snape MSc. The athlete offered tips and advice on how to improve leadership and management performance. After the Leadership Masterclass, the students had the opportunity to go on a stadium tour and watched the biggest game of the season with football fans.
The event was held in celebration of Santander's sponsorship of the UEFA Champions League. This opportunity was made possible thanks to Westminster's partnership with Santander Universities UK.
Speaking about this unique experience, Abi Azeez said: "The Santander Universities Champions League event was an enlightening and invaluable experience. Being able to hear from professionals at the top of their field about the importance of setting goals and having the drive and dedication needed to ensure that those goals are achieved has inspired me to work even harder to achieve my own goals. 
"As a result of the event, I have been provided with the skills needed to be able to more effectively deal with challenges and to thrive under pressure and I believe the lessons learned will be invaluable to my success while in university and later on in my chosen career field."
Trung Le also commented on this special opportunity: "Learning from professional and renowned athletes at the Santander Universities Champions League event was such an enriching experience. They have not only inspired me to set and smash my own goals, but they have also galvanised me to make a great effort in being the best person that I can be. There were many powerful lessons that I have learned that I will take to heart and I will now do my utmost best to thrive in my own academic studies and future employment."
Matt Hutnell, Director of Santander Universities UK, also said: "We're thrilled to have offered
students from all our partner Universities this fantastic opportunity to attend a series of
leadership activities whilst highlighting the positive and lasting impact that sports such as
football have on people and communities around the world. We are committed to supporting
higher education and hope the sessions provided an invaluable insight and the skills needed for students to build upon as they develop their careers."